Follow the steps below to enjoy this cool weather favorite without beans.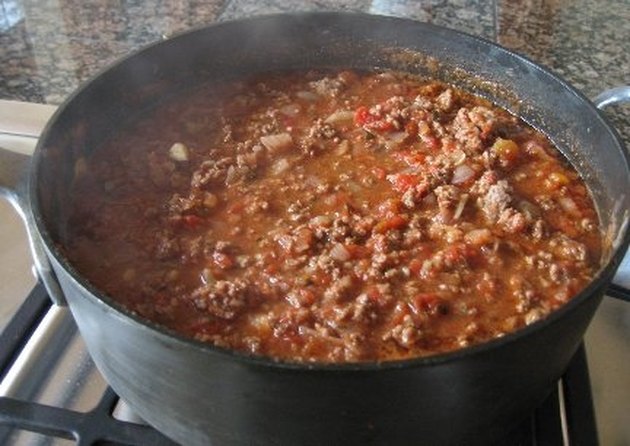 Things You'll Need
1 pound ground beef

2 cloves garlic, minced

1 large onion, chopped

2 tablespoons chili powder

1 teaspoon dried oregano

1 teaspoon ground cumin

1 teaspoon hot pepper sauce

1 (28 ounce) can crushed tomatoes

1/4 cup red wine vinegar
Step 1
Prepare your ingredients. Chop one large onion into moderately small pieces. Next, mince the garlic clove and put both to the side to be combined with the added ingredients later.
Step 2
Crumble one pound of ground beef into a stock pot over medium-high heat. Next add the chopped onion and minced garlic to the pot, stirring the ingredients until the beef is browned.
Step 3
Using a strainer, drain the excess grease and pour the ingredients back into the pot.
Step 4
Season the chili by adding the designated amount of chili powder, oregano, cumin and hotsauce.
Step 5
Stir in the vinegar and tomatoes then bring to a boil.
Step 6
Immediately reduce to low heat and let simmer for one hour. Make sure to stir occasionally to avoid burning on the bottom.