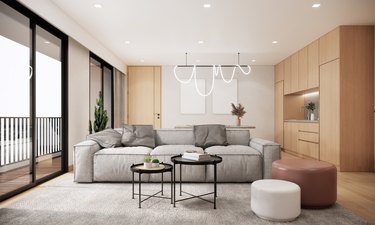 Framing a ceiling is not for beginning do-it-yourselfers; it falls into the moderately complex category of home projects and may be needed for new homes or in the course of renovations. Ceiling framing requires specific skills and knowledge along with a few helpers to get the project done properly and safely. You'll also want to have all the tools and supplies on hand before you get started. If you are at all unsure about how to proceed, you should work with a professional, like a remodeler or general contractor, on this project.
The Basics of Ceiling Framing
Conventional room frames are built with beams and timber joists that run down the lengths and widths of ceilings, plus concrete and metal materials. The joists help keep the roof up and anchor the walls to prevent them from collapsing, and along with the beams, they support the panels and create the ceiling. In most cases, those beams and joists are padded with plasterboard to create flat ceiling surfaces.
After the wall framing is up, you can place the ceiling joists. These run horizontally between opposing walls and connect to the top of your walls with wall plates. Building codes dictate the number of joists you need to install and the thickness and distances between them. These codes will vary based on your jurisdiction, so be sure to look up the codes for your city or town before you get started. It's likely you will also need a building permit for this work.
After the ceiling joists are up, you will need to install additional beams to support the roof and walls. An engineer, architect or contractor can help you decide how many beams you'll need and where to place them.
Suspended Ceiling Materials
Dropped or suspended ceilings cover up building infrastructure, like pipes, hiding the solid framework above. Installing a dropped ceiling isn't simple, and you'll need a good deal of suspended ceiling materials. You'll have to measure the drop ceiling tiles and determine their spacing on the ceiling first. The next steps of this project involve ceiling grid tees and ceiling grid wires.
Decide how deep a drop you want and measure around the room's perimeter down from your floor joists. Mark your wall studs and adhere a metal L-channel with self-tapping drywall screws. For the interior corners, butt the two pieces together or overlap them. Moving on to the T-channels, the main one runs perpendicular to the floor joists. It has to be spaced away from your wall and supported by the L-channel on one side with eyelets and ceiling grid wire every 2 to 4 feet.
Be sure that the channel is level and pull the grid wires to bring your T-channel in line. Wrap that wire to make sure it can support the weight of your tiles. Repeat this process with the T-channel. For the cross-T installation, snap in the 4-foot cross Ts and repeat with the 4-foot ones. Measure each, cut to size and cut bevels on the wall ends to prevent interference with the wall.
Completing the Ceiling Installation
Now that your ceiling grid is in place, you can drop in all your full tiles. Once you place those, you'll have to measure and cut the edge pieces to fit in. Some ceiling tiles have reveals, which can be more straightforward to handle.
For these kinds of tiles, first cut them to size and set them in place in the grid. Then, you can mark and remove them, score the edges and cut the reveals. After you trim a few of these, you will get the hang of it. You may also need to make special cuts for smoke detectors and drop lighting. You should consult with an electrician for help installing the smoke detectors and drop lighting.