Things You'll Need
Tassel tiebacks (a pair per window treatment)

Window hardware to hold tassel tiebacks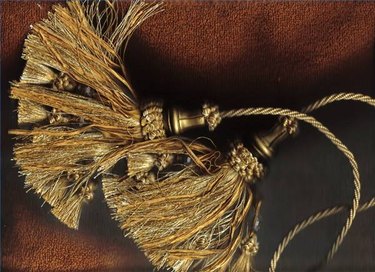 Tassel tiebacks are elegant, attractive and offer an alternative to a way to keep draperies or curtains secured to one side in order to allow natural light to come into a room. Tassels are beautiful, come in a wide range of cords, colors and designs and often have beads designed into them. They can also be incorporated into home décor, adding a rich touch to furniture, bookcase knobs, ceiling fans or ties on decorative pillows.
Step 1
Using tassel tiebacks make an elegant statement and enhance what they are decorate. You can install window hardware to hold the ends of tassel tiebacks that will be used to secure drapes or curtains that will allow natural light into a room or view out a window. Choose tassel tiebacks that complement, and are appropriate to, the drapes or curtains to be secured back.
Step 2
You can hang a tassel tieback on the knob of a large bookcase, attach a single tassel tieback onto a ceiling fan chain, or wrap a tassel tieback around a small decorative pillow accent for a bed or sofa and tie a know. These are a few samples of uses for tassel tiebacks and can include use as a bookmark, or even an attractive collection of tassel tiebacks in an attractive bowl.
Step 3
Attaching a small tassel tieback to a gift box or bag as a decoration to a simple package offers an elegant touch. Wrap a tassel tieback around a large vase and make a tie so that the tassels hang attractively as a beautiful feature. Tassel tiebacks are both useful and decorative, come in a range of prices depending on materials, design, country of origin and creation. They can also be made as a craft project incorporating yarns, cords, ribbons and beads.