Things You'll Need
Scrubs

Black Paint

Letter Stencils

Plastic chains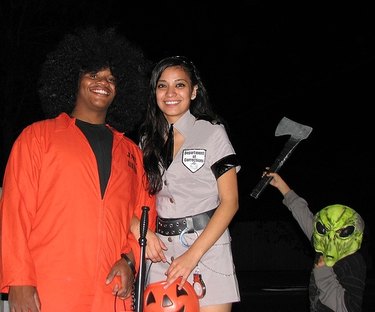 You don't have to spend a fortune on a striped costume to go to your Halloween party as a prisoner. It can be done much more inexpensively and easily by following these simple steps.
Step 1
Purchase a set of bright orange scrubs. This will mimic the orange prison jumpsuit that are used in many prisons today If you wear the top tucked into the pants it will look more like a jumpsuit. You can find it at "Uniform Advantage" among several other online scrub stores or brick and mortar scrub stores.
Step 2
Stencil the top of the prison outfit. Using letter stencils and black paint, stencil the words "Department of Corrections" on the back. On the front, you can stencil the word "prisoner," and under that, you can make up a crime and stencil that on it too. Keep it funny using something like "guilty of love". You can also stencil random numbers on the outfit.
Step 3
Purchase plastic chains that can be found at toy stores or websites like "The Laughing Parrot." Attach the chains to your ankles loosely so that you can still walk without falling over. You may also want to connect the chain to a black ring around your neck and bind your wrists (loosely) as well.
Step 5
Tip
Have fun with the costume and add your own creative touches. Variation: For a female prisoner, you may want to take a sexy route and leave off the pants (wearing an over-sized or long scrub top of course) add a pair of fishnet stockings and heels and wear a chain around your waist