Things You'll Need
3 carrots

3 medium onions

Small head of cabbage

1 corned beef brisket (about 4 to 5 lbs.)

1 c. water

Crockpot (slow cooker)

Boiled potatoes (optional)

Guinness (optional, but recommended)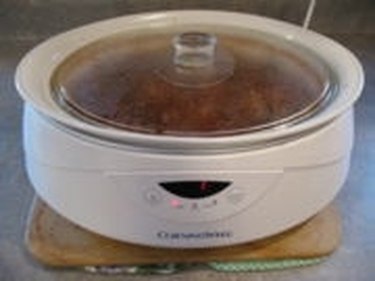 If you're planning a St. Patrick's Day party or you'd just like a hearty, simple wintertime meal, you can't get much simpler than this tasty corned beef and cabbage dish you can cook up in your crock pot. And just to make sure you get enough veggies (and color) in your diet, this recipe throws in a few carrots for good measure.
Step 1
Prep your veggies first. Peel the carrots and slice them into 2" chunks, then peel the onions and cut both these and the cabbage into wedges.
Step 2
Put the carrot chunks at the bottom of your crock pot. Place the corned beef on top of the carrots and cover it with the onion wedges.
Step 3
Pour the water in to the crock pot and turn the heat to low. Cover the pot and let the meat and vegetables simmer for 8 to 10 hours.
Step 4
Add the cabbage wedges, pushing them down into the broth. Turn the heat to high and cook for another 2 or 3 hours.
Step 5
Serve with a side of boiled potatoes if you'd like to be traditionally Irish. Add a pint of Guinness if you really want to go all the way.
Tip
If the crockpot is too small to fit all of the cabbage, you can cook it separately and serve it on the side
Warning
Cooking cabbage will make your house smell like, well, cooked cabbage for a very long time