Start to Finish: 35 minutes Servings: 4 Difficulty Level: Beginner
An Italian-American staple for decades, chicken Marsala relies on Sicilian wine for its mushroom sauce. Though you can substitute dry sherry in a pinch, the recipe works best with a dry Marsala. When possible, avoid the cheap cooking wines at the grocery store and opt instead for a bottle of slightly higher quality from a wine shop.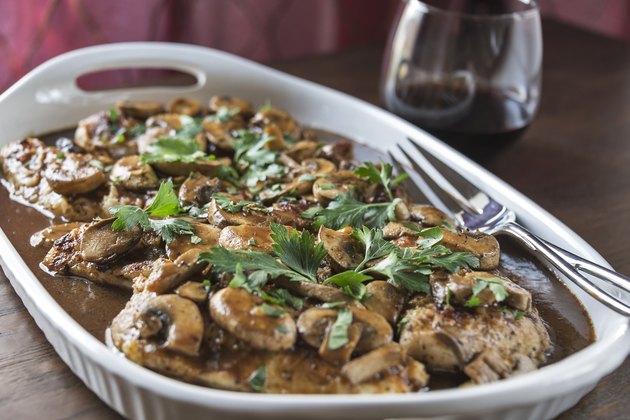 Ingredients
4 skinless, boneless chicken breasts (about 1 1/2 pounds)
1 cup all-purpose flour
Kosher salt, to taste
Ground black pepper, to taste
1/4 cup extra-virgin olive oil
4 ounces pancetta, diced
2 cloves garlic, minced
3 shallots, minced
2 teaspoons fresh sage, finely chopped
8 ounces crimini mushrooms, halved or quartered
2/3 cup dry Marsala wine
1/2 cup chicken stock
1 tablespoon fresh lemon juice
3 tablespoons unsalted butter
3 tablespoons flat-leaf parsley, chopped
Directions
Lay the chicken breasts out on a cutting board and cover with plastic wrap. Pound the chicken with the flat side of a meat mallet or a rolling pin to 1/4-inch thick.
In a shallow bowl, mix the flour with a generous amount of salt and pepper, to taste. Heat the oil in a large skillet over medium-high heat, until fragrant.
Dredge both sides of each chicken cutlet in the flour mixture, shaking off any excess. Place the pieces into the oil. Fry for 5 minutes, turn and cook for an additional five minutes, or until golden brown. If necessary, cook the chicken in 2 batches. Remove the chicken to a sheet tray in a single layer.
Lower the heat to medium and saute the pancetta until the fat begins to render, about 1 minute. Add the garlic, shallots, sage and mushrooms to the pan until the mushrooms are golden brown, about 5 minutes. Season with salt and pepper, to taste.
Pour the Marsala into the pan and simmer for 30 seconds, scraping up any browned bits on the bottom of the pan. Add the chicken stock and lemon juice; simmer for 1 to 2 minutes to reduce the sauce. Stir in the butter.
Return the chicken to the pan and simmer for 1 to 2 minutes, until the chicken is heated through. Divide among four plates or place in a serving dish and garnish with parsley.
Tips and Variations
Because the chicken is thin, it will cook quickly. Fry it just long enough to ensure that it browns and reaches the USDA recommended internal temperature of 165 degrees Fahrenheit.
Substitute porcini, chanterelle, maitake, oyster or shitake mushrooms for the criminis for a deeper, earthy mushroom flavor.
Make a creamy Marsala sauce by adding 1/4 cup mascarpone or 1/3 heavy cream to the sauce instead of butter.
Serving Suggestions
Serve chicken Marsala over a prepared grain such as rice or quinoa, or over risotto.
Roasted or mashed potatoes make a flavorful accompaniment to the dish and absorb the extra sauce nicely.
Though in Italy pasta constitutes its own course, serve chicken Marsala atop or with a side of noodles such as tagliatelle, if desired.