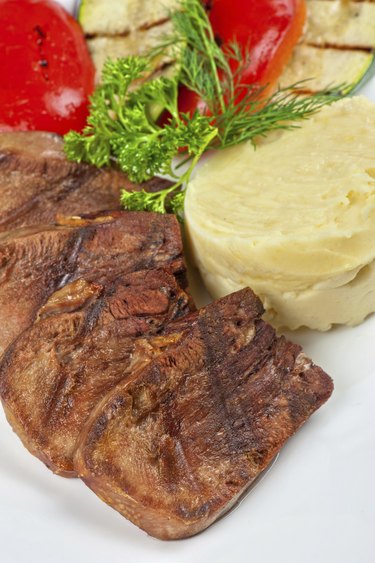 Before you stick out your own tongue at the prospect of eating beef tongue, consider its beefy charms. Beef tongue is both boneless and versatile. When brined and sliced thinly, the meaty organ serves as a traditional deli favorite on sandwich bread with mustard or horseradish, but it also stands in for stew meat in tacos, or even for steaks on the grill.
Basic Prep
Unless your market sells pre-cooked beef tongue, the meat needs processing before you proceed with most recipes. After putting the tongue in a saucepan or soup pot, add enough water to cover the tongue completely. Alternatively, use chicken stock for extra flavor. According to The James Beard Cookbook, tongue must simmer for about 50 minutes per pound to become tender; add extra cooking liquid as needed. Remove the meat when it is fork tender. At the end of this stewing process, plunging the drained tongue in a bowl of cold water will loosen the skin enough for you to peel it. This is also the time to cut it into thin slices for sandwiches, thick slices for grilling or chunks for tacos and casseroles.
Stewed Steer
With a little finessing, the basic stewing method can become an elegant dinner with no additional cooking. Instead of simmering the tongue in water or stock only, add aromatics such as chopped onion, garlic, bay leaves and spices. When you remove the tongue from its cooking liquid for peeling, reserve a cup or two of the strained liquid as a sauce base. Thickening the liquid with a shallot-spiked buttery roux and a dollop of cream is one option, or you can reduce it with red wine, then whisk in a bit of mustard or horseradish sauce. Serve the tongue by slicing it on a platter and spooning the topping over the slices.
Outdoor Organ-Cooking
For grilling, tongue slices about 3/4-inch thick are optimal. Brushing olive oil on both sides, as well as generously seasoning with salt, will get the tongue prepped for grilling over direct heat. The meat requires 5 to 7 minutes per side. You'll know it's time to flip it when the tongue develops a crispy brown skin. After the tongue has cooked for a total of 10 to 15 minutes, check the internal temperature with a cooking thermometer. The U.S. Department of Agriculture recommends beef tongue be cooked to an internal temperature of 160 degrees Fahrenheit.
Tongue Taco
Beef tongue makes a tender filling for tacos or quesadillas. After you've stewed and peeled the meat, use its simmering liquid as a base for a spicy sauce by whirring together in a blender a cup or so of the liquid, as well as fresh lime juice and a small can of chilies in adobe sauce, or perhaps roasted tomatillos. After you braise the cubes, or bake them in the sauce, they're ready to be spooned into taco shells or tortillas, with additional sauce spooned over the filling.