An appetizer staple at many Chinese restaurants, cream cheese wontons have the delicious contrast of cool cream cheese with crispy, hot wonton wrappers. Cream cheese wontons are deceptively easy to make, despite their elegant, intricate appearance. Wonton wrappers surround a cream cheese filling and after a quick hot oil bath, are ready to devour. Experiment with filling additions including meats, seafood, vegetables, herbs and spices for a creative twist on this simple snack.
Things You'll Need
Cream cheese block, softened
Wonton wrappers
Peanut, corn or vegetable oil
Deep fryer or pan
Seasonings (optional)
Meats and vegetables (optional)
Small brush (optional)
Slotted metal spoon
Paper towels
Step 1
Preheat oil in a deep fryer or add at least 2 inches of oil to a deep pan and turn the burner to a medium-high heat. Place an oil thermometer in the pan. If you're using an electric fryer, set the temperature to 350 degrees Fahrenheit.
Step 2
Mix a softened cream cheese block with desired ingredients. Add a few pinches of salt and pepper, a finely chopped scallion or a few pieces of shredded crab meat.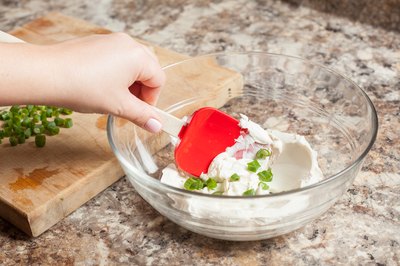 Step 3
Separate and lay the wonton wrappers out flat. Drop a dollop, or approximately 1 teaspoon, of the cream cheese mixture into the center of the wonton wrapper. Apply a few drops of water to the edges of the wonton wrapper, using your finger or a small brush.
Step 4
Fold the edges of the wonton over the filling, forming a triangle. Seal the wonton from the center filling, pressing towards the outer edges to remove air. Fold the corners from the base of the triangle together, pinching tightly to secure.
Step 5
Add a few wontons to the hot oil once it reaches a temperature of 350 F. Fry the wontons for 1 to 2 minutes per side, until golden brown and crispy. Remove the wontons from the hot oil with a metal slotted spoon and drain them on paper towels. Serve hot.