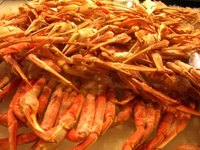 Crab legs are delicious and surprisingly easy to prepare at home. They can be prepared in any number of ways, including boiling or grilling. Most crab legs are cooked and flash frozen before they're shipped, so you only have to reheat them. That only takes a few minutes in the oven.
Things You'll Need
Preheat the oven to 375 degrees.
Place the crab legs onto a baking sheet.
Brush the crab legs with butter and lemon juice.
Bake the crab legs for 15 minutes.