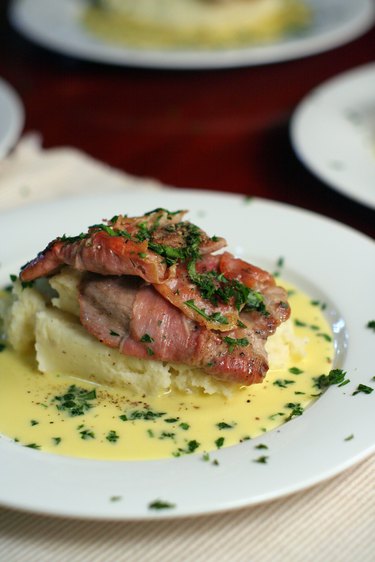 Start to Finish: 40 minutes
Servings: 4
Difficulty Level: Beginner
The term "scallopini," or "scaloppine" in proper Italian, refers to a boneless piece of meat, pounded thin, dredged in flour, then sauteed. Often associated with veal, scallopini of other meats, such as chicken, can become the base of many dishes. Coat and sauté tenderized chicken scallopini in a wine and tomato sauce for a tasty, quick Italian meal. Lemon juice, chicken broth and vegetables add to the flavor profile, which lends itself to pasta or rice.
Ingredients
4 skinless, boneless chicken breasts
1 cup all-purpose flour
Salt and black pepper, to taste
1 teaspoon olive oil
1 clove garlic, chopped
3 tablespoons unsalted butter
1/2 cup cherry tomatoes, halved
2 tablespoons capers
1 tablespoon lemon juice
1/2 cup dry white wine
1/2 cup chicken broth
1 teaspoon parsley, dried
Directions
Flatten the chicken breasts by placing them between two pieces of plastic wrap; use the flat side of a meat mallet to pound the chicken to 1/4-inch thickness. You may need to cut large breasts into smaller pieces first. Remove the plastic wrap.
Add the flour to a shallow dish and dredge both sides of the chicken; season with salt and pepper.
Pour the olive oil and garlic into a nonstick saucepan; place it over medium-high heat.
When the oil begins to smoke, add two chicken breasts to the pan and cook each side for approximately 2 to 3 minutes, or until browned. Remove the chicken and cook the other two pieces, then set aside. Make a cut through the center of a chicken breast to check that the juices run clear.
Discard the oil from the pan and add the butter, tomatoes and capers; sauté for 2 minutes, maintaining the medium-high temperature.
Add the lemon juice, white wine and chicken broth to the saucepan and sauté for an additional 2 minutes.
Reduce the heat to a simmer, then add the chicken to reheat for 1 minute. Garnish with parsley and serve.
Serving Suggestions
Serve the chicken scallopini with wild rice or pasta. You can also pair it with potatoes, green beans or a mixed salad. Garnish with fresh basil or parsley and thin slices of lemon.
Tips
You can refrigerate scallopini for 2 to 3 days and reheat. Keep it in a sealable plastic container; warm it for 2 minutes or until piping hot and serve.