Bacon wrapped scallops are an easy and impressive appetizer that can be ready to eat in just a few minutes! They only require five simple ingredients, toothpicks for structure and a hot grill. It's a truly impressive meal with very little effort.
This recipe yields approximately two dozen bacon wrapped scallops, making it a wonderful appetizer option for entertaining a small party. You could also pair these scallops with a small side salad and enjoy them as a light and refreshing dinner.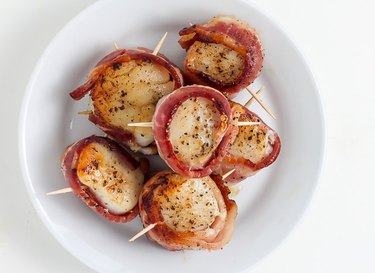 Things You'll Need
Gas or charcoal grill

Wooden toothpicks


2 pounds fresh sea scallops

1 Tablespoon olive oil

1 teaspoon salt

1 teaspoon black pepper


24 slices of bacon, medium-thick or regular cut
Step 1
Remove scallops from packaging. Remove the small side muscle from the scallops, then rinse with cold water; pat dry with paper towels.
Step 2
Once scallops have been thoroughly dried, season both sides generously with salt and pepper. Brush each side with a little olive oil.
Step 3
Wrap each scallop in a slice of bacon. Secure the bacon with a toothpick.
Step 4
Prepare your grill according to the manufacturers instructions. Once it's sufficiently hot, place scallops on the grill grate directly over the lit coals.
Step 5
Cook for 2 minutes over the direct heat, then flip the scallops and cook them for an additional 2 minutes. Once they've seared, move the scallops over to the side of the grate opposite the coals and let them cook with the lid closed for 4-5 more minutes, or until the bacon looks crispy and brown. Remove from the grill and serve immediately.
Warning
You want to be careful not to overcook the scallops or they will get tough and chewy.