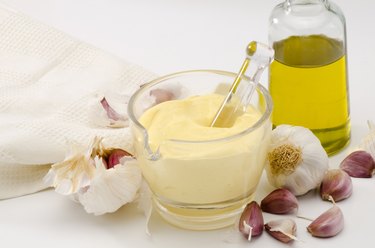 Without garlic, aioli would simply be plain mayonnaise. The "stinky rose" transforms the Provencal sauce into something truly special. Serve the garlicky emulsion as the French do, by centering aioli on a crudites tray with fresh vegetables. Or use it to enliven chilled vegetable salads or seafood, especially in the summer. Enjoy a dollop of garlic aioli over french fries or spread it on a special sandwich.
A Smash Hit
For a small bowl of aioli, use at least one clove of garlic -- two or three is even better if you love garlic. Peel a clove, then mince it finely, put it through a garlic press or grate it. The traditional way is to mash the minced garlic and some kosher salt with a mortar and pestle until the garlic becomes paste-like. Failing that, use a potato masher or heavy jar to crush the garlic.
Enchanting Emulsion
Aioli's trademark creaminess comes from emulsifying egg yolks with oil. Use one or two separated egg yolks for every 1 cup of oil. Olive oil is traditional in aioli, but you can substitute some of the olive oil with canola or grapeseed oil. Start by whisking the beaten yolks into the garlic paste, along with a drizzle of fresh lemon juice. Once that's well-combined, slowly pour in the oil, while continuing to whisk the mixture briskly. The aioli is ready when it becomes creamy and pale yellow.
Roasted Revelation
To add a sweetly caramelized dimension to your aioli, use roasted garlic instead of fresh garlic. Toss peeled cloves or a whole head of garlic with olive oil, enfold the garlic in aluminum foil, then roast it in a 400-degree Fahrenheit oven for up to 40 minutes. The garlic is ready when the cloves are soft when pierced with a knife. The garlic peels easily once it's cooled. Mash the roasted cloves, then proceed with the aioli recipe.
Going Whisk-less
Instead of mashing the garlic and hand-whisking the ingredients, use a food processor to combine the ingredients. Chop the garlic in the food processor, then puree it with egg yolks. Slowly add the oil while the food processor continues to puree the mixture. You may use an immersion blender in much the same way, after you've minced the peeled garlic.
Alternative Aiolis
Once you've mastered a classic garlic aioli, incorporate ingredients that add variety to your sauce repertoire. Drizzle a bit of Dijon mustard into the basic recipe, or heat it up with a bit of cayenne pepper or Sriracha sauce. For a luxurious touch, decrease the amount of olive oil, and add a few spoonfuls of pesto or white truffle oil.
Safety First
Because uncooked egg yolks are a crucial part of aioli, take steps to avoid food-borne diseases related to raw eggs, such as salmonella. Brush off any debris from the whole eggs, and wash them under cool running water before you crack the shells. If senior citizens or toddlers will be at the table, use pasteurized egg yolks instead of raw egg yolks in aioli. Refrigerate leftover aioli for as long as three days.