Things You'll Need
2 qt. sliced, fresh peaches

2 qt. water

Blender

3 (750 ml) bottles of sparkling wine or non-alcoholic sparkling apple cider

1 gallon lemonade

6 tbsp. grenadine

Lemon slices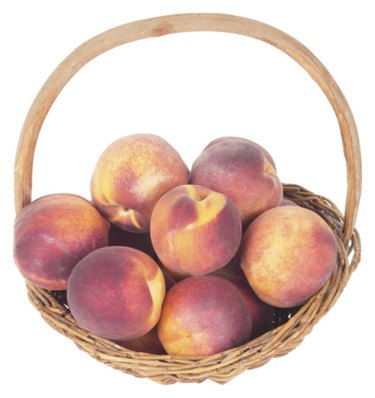 There is just something festive about punch. Maybe that's because even though punch is a simple concoction of common ingredients, it is typically only served at special occasions. Whether it's at a baby shower, a children's birthday party or singles' mixer, punch is usually made in large batches that are intended to satisfy many people at once. Almost any combination of juice and sparkling liquid will make a tasty punch -- that's one of the great things about punch -- so be sure you make enough to provide all of your guests with at least two servings.
Punch Basics
Step 1
Estimate that every gallon of punch will serve up to 10 people. For 30 guests, plan to make 3 gallons of punch.
Step 2
Combine 2 gallons of fruit juice and 1 gallon of clear, carbonated beverage such as lemon-lime soda, ginger ale or sparkling water. Make a spiked punch by substituting part of the carbonated beverage for hard alcohol or wine. The measurements depend on your taste and how strong you want the beverage to be.
Step 3
Garnish the punch with slices of fresh fruit or springs of herbs that complement the flavors you have chosen. When in doubt, a scoop or two of fruity sherbet in the serving bowl adds a layer of creamy flavor to your punch.
Peach Fizz Punch
Step 1
Place fresh peaches and water in a blender and blend into a puree.
Step 2
Pour the peach puree into a large punch bowl and add the sparkling cider or wine -- Prosecco or sparkling rosé are excellent options -- lemonade and grenadine. Mix gently with a large spoon.
Step 3
Cut a slit from the center of a lemon slice to the edge. Slide prepared lemons onto the edge of the punch bowl for an attractive garnish.
Tip
Freeze individual pieces of fruit to use instead of plain ice-cubes in your punch. For instance, in a berry punch you could use whole, frozen strawberries and in the suggested peach fizz punch you could use frozen peach slices.
Substitute canned peaches for fresh by draining and rinsing the syrup from them.
If you don't have a serving bowl large enough to hold 3 gallons of liquid, divide the ingredients in thirds, mix, and store in the empty juice or soda containers you used for the punch.
Serve your bunch in a large fish bowl if you don't have a traditional punch bowl.