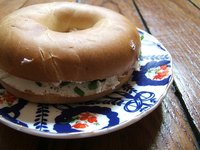 Bagels have become a breakfast of choice for those who are conscious about their health. With an ever-expanding selection of bagel flavors on the market, they have also become a preferred mid-day snack for many people around the world. For most people, there are three main options available for how to toast a bagel: in a toaster, in a toaster oven or in a conventional oven. The toaster is the fastest, easiest and most convenient method for most people, so in this guide we will focus on how to toast a bagel using a toaster.
Things You'll Need
Begin by slicing the bagel length wise in half, so that it is cut similar to a hamburger bun. Many bagels are pre-cut, so you may be able to skip this step.
Place each half of the bagel into a slot on your toaster. Each half may be too thick to fit into your toaster well. If this happens, try to flatten it between your hands before placing it in the toaster. Otherwise, you may have to trim a small amount off each half of the bagel.
Adjust toaster setting to the upper medium heat. The thickness of the bagel requires a higher degree of cooking than normal bread, but high heat would likely burn the bagel. Upper medium heat works well for most bagels.
Push down on the toaster level and wait for the timer to run its course.
Top with cream cheese or your preferred topping and enjoy.