Things You'll Need
Music/CD Player

Movies/DVD Player

Makeup kits

Food

Cake

Drinks

Paper

Pencils/pens

Prize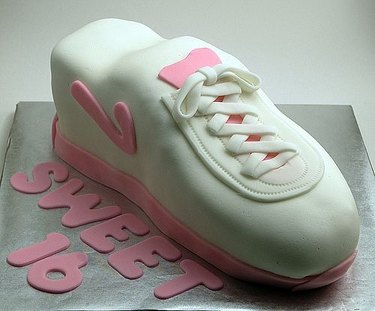 Celebrating a Sweet 16 Birthday is a special occasion. Girls at this age are maturing quickly, but they still like to be pampered and treated extra special on their 16th birthday. Here are some really cool ideas for having a slumber party.
Step 1
Invitations: It is relatively inexpensive to have personalized rubber wrist bands made up these days. Simply order two for the invitation for each girl invited to the party. The first band can say, "_'s Sweet 16 Birthday Party." The second band can say the date of the party. Your teen can hand them out to her friends. Visit the site below to get an idea of the cost of having these made.
Step 2
Teen girls will probably like a lot of privacy at the party to talk and giggle. Give them a big open space where they can listen and dance to music. Then they can turn the dance floor into their sleep arrangements for the night later (much later).
Step 3
You can buy individual mini makeup kits pretty inexpensively at Target or Kohl's, or similar stores. Give each girl a kit and let them make up each other's faces. This is a great time for teens to experiment with different styles. Do this activity early in the party, so that they can wear their makeup for a while.
Step 4
Teen girls are also into movies with their favorite heart throbs. Let your teen pick out one or two movies that she knows her friends will like. Whip up a few bowls of popcorn for the occasion and serve sodas with straws.
Step 5
Favorite foods for teen girls would probably include pizzas, breadsticks, soda and cake. Have a bakery make a decorated cake for this special occasion. You can see an example of a popular girls' cake above in the photo.
Step 6
Decorating for a Sweet 16 party should include pink and white streamers hanging from the ceiling, along with Sweet 16 signs that you can find at your local party supply store. Frosted pink and white balloons are also a good idea.
Step 7
A fun game to play with the girls is "16 Questions." Come up with 16 questions about your daughter before the party (favorite color, favorite star, best subject in school, etc...). Have your daughter leave the room. Give each guest a paper and pen or pencil to write down the answers to 16 questions about your daughter. Have your daughter come back in to give her answers to the questions and hear who knows her the best. Give a prize to the winning girl who answered the most questions correctly.
Tip
Don't give the girls a bedtime. Teens often like to have a contest of who can stay up the latest, and some of them will not even go to sleep at all. They'll catch up on sleep the next night.