Things You'll Need
Cardboard or thin wood panel

Small hand saw

Heat resistant glue or wood glue

20 to 50 bottle corks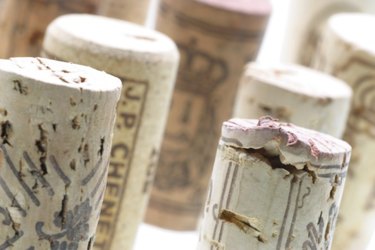 Instead of buying an expensive cork trivet, you can make your own from wine corks and any picture frame you want. Just save up enough wine corks to fill the picture frame. Save the wine cork whenever you have a bottle of wine, or ask your friends to donate their corks. To conserve corks, you can even cut them in half and glue down each half to the frame backing.
Step 1
Remove the glass and any wire or brackets for hanging from the picture frame.
Step 2
Place the picture frame on the cardboard or wood and trace an outline for cutting, if the piece isn't already cut to size. Cut the cardboard with a scissors or wood with the hand saw to fit over the entire back of the picture frame. Squeeze a thick line of heat resistant glue around the backing about an inch away from the edge and glue it to the back of the frame. Use wood glue for a wood backing.
Step 3
Place all the corks on the frame and experiment with different arrangements of the corks on the frame, looking for interesting designs on the corks or a harmonious pattern. Cut the tips off some corks and place them upright for a different look. Lie the corks in alternating directions if they don't fit tight together.
Step 4
Place a line of glue along the back of the cork and press the cork into position on the frame where you want it. Repeat with each cork. Let the glue dry according to the manufacturer's instructions.
Tip
Find a frame deep enough to hold the whole corks if you don't want them to stick out. Cut a thin slice off each cork with a serrated blade, box knife or whatever cuts the easiest to allow the corks to lie flat on the frame for easier gluing. Cut the corks in half so they don't stick out as much. Hold the corks with a vice or tongs for an even safer grip when cutting. Look at garage sales or thrift stores for cheap frames.
Warning
Use caution when using any cutting tools and avoid cutting near your fingers.