Things You'll Need
Wooden or plastic boxes

Flowers

Glass containers

Sand, beads, berries, nuts or glitter

Pillar candles

Rose petals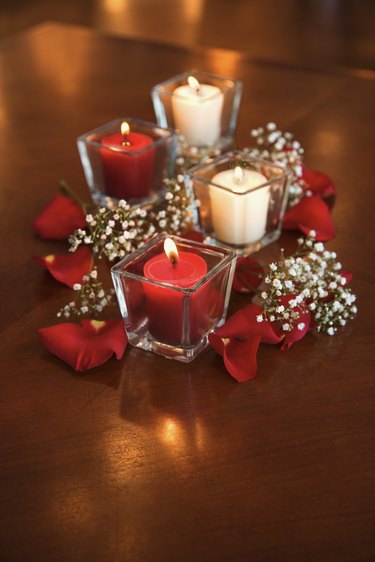 Interesting centerpieces can make a plain table look elegant and exciting, and they don't have to be expensive. Choose the theme and tone of your event before buying the materials for the centerpieces. This way, you can buy materials that match the color palette and style of the event. Consider where the centerpieces will be placed and how large they can be without obstructing views. Simple centerpieces should be low enough that guests can see one another across the table while everyone is seated.
Box Centerpieces
Step 1
Buy low boxes made from wood or plastic. Choose identical boxes for a streamlined look. Choose boxes in a variety of sizes and colors for more visual interest. These boxes can be found at craft stores or home decor stores.
Step 2
Fill each box with flowers. Cut the stems short, and arrange the blossoms in rows to fill the entire box.
Step 3
Arrange the boxes down the center of a long table, or use one box in the center of each round table.
Candle Centerpieces
Step 1
Collect glass containers of various sizes and heights. Visit craft stores and antiques stores to find these containers.
Step 2
Gather materials to place in the bottom of each container. Collect sand, beads, berries, nuts or glitter.
Step 3
Pour the base materials into the bottom of each container. Cover one inch of the bottom of each container.
Step 4
Place a pillar candle inside each container. Gently push the candle down so it will stay in place.
Step 5
Arrange several glass containers in the middle of each table. Use containers of varying heights on each table. Scatter rose petals around the containers for additional decoration. Light the candles just before the event begins.
Tip
Create centerpieces using flowers on the day of the event so the flowers won't wilt.
If you want centerpiece boxes to last longer, use fillers other than flowers. Fruit, nuts or beads will be visually interesting and are easy to find.