Making reindeer chow for Santa's furry flight crew is so easy -- and so fun -- kids can definitely help. Brimming with chocolate and peanut butter flavor, this crunchy midnight snack is the perfect combination of salty and sweet.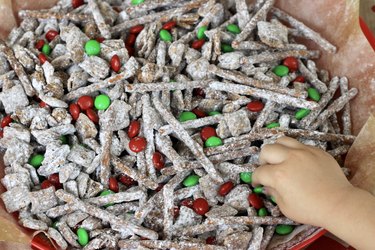 Things You'll Need
4 cups square cereal

3 cups pretzel sticks

1 cup semisweet chocolate chips


1/2 cup peanut butter

1/4 cup butter

1 teaspoon vanilla

1 1/2 cup confectioner's sugar

1 cup peanuts

1/2 cup red and green chocolate candies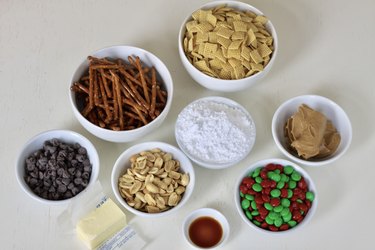 Step 1: Melt Chocolate Mixture
Combine chocolate chips, butter and peanut butter in a microwave-safe bowl. Microwave for 1 minute and stir. If mixture is completely melted, move on to the next step. Otherwise, cook for an additional 30 seconds and stir again.
Step 2: Add Vanilla
Stir vanilla into the melted chocolate mixture.
Step 3: Combine Crunchy Ingredients
Add square cereal, pretzels and peanuts to chocolate mixture.
Gently stir with a large spoon to coat every piece in chocolate.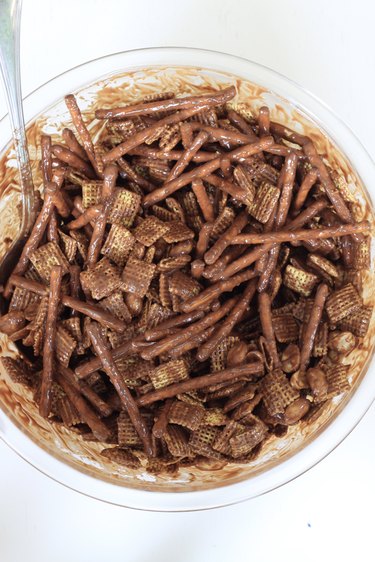 Step 4: Coat with Confectioner's Sugar
Pour confectioner's sugar to a gallon-size zip-top bag, then gingerly add the chocolate-cereal mixture to the bag as well. Shake until every piece is coated with sugar.
Step 5: Cool
Pour mixture onto a baking sheet lined with parchment paper.
Sprinkle additional sugar where needed. Add chocolate candies and cool in the fridge for 30 minutes.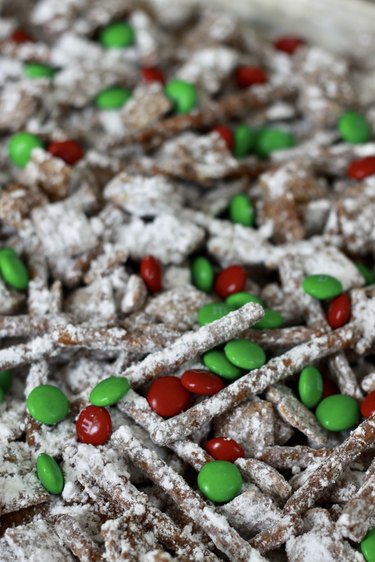 Serve immediately or store in an airtight container in the fridge.