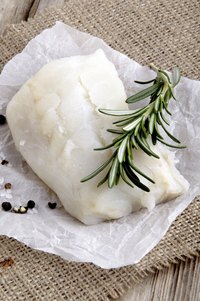 Lutefisk, which means "lye fish," is dried cod that has been treated with lye for preservation. While there are, of course, more advanced ways of preserving food, lutefisk is a Scandinavian tradition still enjoyed today. Before it is prepared, it is soaked in cold water for days to remove the lye. Lutefisk is typically sold already purged of lye. The treatment gives lutefisk a gelatinous texture. Lutefisk must be cooking gently, otherwise it will fall apart, resulting in an unappetizing mush. It is best prepared in the oven or simmered on the stove top.
Things You'll Need
1 lb. lutefisk, purged of lye, divided into individual serving portions
Baking dish
Salt
Butter, melted (optional)
Bacon (optional)
Pot
Water
Whole milk
White wine
Paper towels
Baked Lutefisk
Arrange the lutefisk in a baking dish in a single layer and sprinkle with salt. Let the lutefisk rest for half an hour. .
Drain and discard the liquid that has been expelled from the lutefisk. Press down on the lutefisk, gently, to purge the fish of any additional liquid.
Preheat your oven to 400 degrees Fahrenheit. Sprinkle a little more salt on top of the lutefisk and bake, covered, approximately 25 minutes or until the fish flakes easily.
Melt butter or fry a few slices of chopped bacon while the lutefisk bakes. When the lutefisk is finished, serve drizzled with melted butter or topped with bacon and bacon grease.
Stovetop Simmered Lutefisk
Combine a cup of water and a cup of whole milk with two spoonfuls of white wine vinegar in a pot so that the liquid is just covering the lutefisk.
Bring the pot to a boil and reduce the heat to low. Add the lutefisk and gently simmer for 15 to 20 minutes, or until the fish is slightly flaky.
Remove the lutefisk from the pot and let drain on paper towels. Serve with melted butter or a white gravy sauce.