Things You'll Need
2 to 3 pound whole chicken

1 teaspoon olive oil

1 teaspoon fresh rosemary

1 teaspoon lemon peel

1 teaspoon salt and ground black pepper

6-quart slow cooker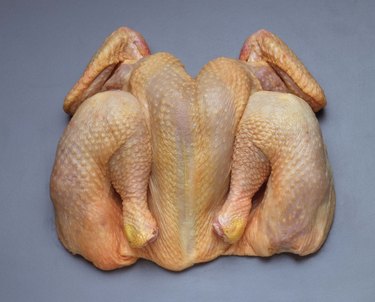 You can bring a beautiful golden brown roast chicken with succulent flavor to the table with minimal prep time and no-fuss cooking. A roast chicken cooked in your slow cooker is the perfect way to serve a holiday meal without spending all of your time in the kitchen instead of with family and friends. You must handle it delicately, however, as the slow cooker process makes the chicken delicate. Use a spatula to turn the chicken and remove it to avoid pulling the meat from the bones.
Step 1
Wash the chicken thoroughly, including a light rinsing underneath the skin and in the cavity. Do not remove the skin. Dry the chicken with paper towels or disposable cloth. Rub the surface of the chicken with extra virgin olive oil, including the under the legs and wings. Let the chicken sit for five minutes.
Step 2
Prepare the spices. Chop fresh rosemary very finely, and use a fork to blend it with the lemon peel. Set aside. Blend the salt and pepper in a separate small container. Using your fingers, sprinkle some of the salt and pepper mixture inside the chicken. Follow with a sprinkling of the rosemary and lemon peel mixture. Using the remaining salt and pepper, rub it into the outside skin of the chicken. Follow with the remaining rosemary and lemon peel. Cover as much as the surface of the chicken as possible.
Step 3
Place the seasoned chicken into the slow cooker. Cook for 3 hours on high, then turn the slow cooker to low and continue cooking for 4 to 5 hours. Do not add any water or liquid. Allow the chicken to roast in its own juices and the seasonings.
Step 4
Use the broth from the chicken to make a chicken gravy when the chicken is done. Use large spatulas to remove the chicken, as it will be very tender and can fall apart. If you prefer, sprinkle your roast chicken with paprika to add color.
Tip
If you want a more spicy roast chicken, exchange the rosemary and lemon peel for crushed red pepper and dry mustard in equal amounts. Try adding sliced carrots after turning cooker to low, and pearl onions during the last hour.
Warning
Wash your hands and all cooking surfaces, utensils and sinks thoroughly after preparing raw chicken.