If you need flowers to be a certain color, but you can't find that color anywhere, what do you do? Dye them! Dyeing white flowers any shade you desire is fun and easy, and they're perfect for occasions like weddings or parties when you need flowers to match a specific color scheme.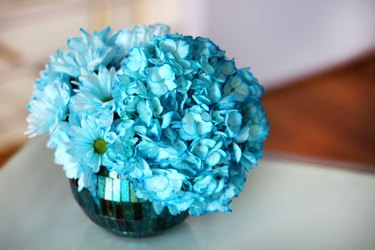 Things You'll Need
Food coloring

Glass

Warm water

Plastic spoon


White flowers

Floral shears
Step 1: Mix Food Coloring
Add food coloring to a glass of warm water, and stir with a plastic spoon. Use about 25 drops of food coloring for every four ounces of water. While food coloring typically comes in a box of four colors, remember that you can combine different colors to create additional ones. Stores also sell neon shades of food coloring for more vibrant hues. I used a neon blue for these flowers.
Step 2: Remove Leaves
Remove any foliage from the stems of the flowers. Stripping the stems of their leaves will prevent the food color from being diverted to the leaves and away from the flower petals.
Step 3: Cut the Stems
Cut the stems at a 45-degree angle with sharp floral shears. The angle serves two purposes. It increases the exposed surface area of the cut so that more water — and food coloring — can be absorbed into the stem. And cutting the stem at an angle keeps the bottom of the stem from sitting flush at the bottom of the vase — which would cut off the water supply.
Tip
When you cut the stems, remember that the shorter they are, the less distance for the food coloring to reach the flower petals. Therefore, you'll achieve better results with shorter stems.
Step 4: Place Flowers in the Food Coloring
Place the cut flowers in the glass of food coloring.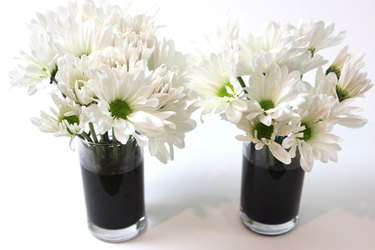 Different flowers will absorb the food color differently, so experiment with a range of white flowers. Here we are dyeing carnations, mums and hydrangeas.
Step 5: Wait 24 Hours
Sometimes within minutes you will see the flower petals changing color, but be patient. It will take 24 to 48 hours for the flowers to reach their maximum color potential. Here are the flowers after 24 hours of sitting in the food coloring solution. You can see that the hydrangeas absorbed the most color.
Step 6: Rinse the Stems
Rinse the floral stems in running water to remove food coloring from the stems.
Tip
It's a good idea to cut about a half-inch off the stems at this point so there are fresh cuts when you put them back in water.
Place the dyed flowers in a vase of water, and marvel at how you've magically changed their color.