Things You'll Need
Vegetable oil

2 eggs

2/3 cup milk

1 tbsp. apple cider vinegar

1 lb. fish

1 cup whole grain flour

3/4 cup cornstarch

1/4 cup water

1 tbsp. ground pepper

1/2 tsp. garlic powder

1/2 tsp. onion powder

1/4 tsp. salt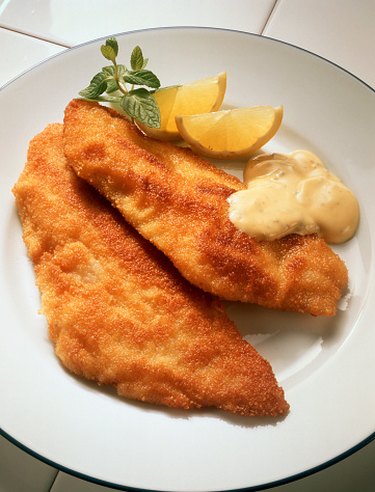 Fish is rich in omega-3 fatty acids, which reduce the risk of heart disease. Because of this, it is recommended by the American Heart Association that people eat fish at least two times per week. Eating fish can be a very tasty alternative to eating other types of meat. Naturally, the type of fish you eat and the way it is prepared makes or breaks the taste. It must be done just right for it to be the perfect fish meal.
Instructions
Step 1
Choose a white fish like halibut, sole, cod or haddock, as all of these have mild flavors, are very flaky, and fry well.
Step 2
Rinse off the fish in cool water and blot dry, then cut the fish into desired-sized pieces and set aside.
Step 3
Put the pre-measured whole grain flour and corn starch into a mixing bowl, then stir well. Set to the side.
Step 4
In a separate mixing bowl, pour in the pre-measured milk, apple cider vinegar and 2 eggs, then add the pre-measured ground pepper, salt, garlic powder and the onion powder and stir well.
Step 5
Soak all fish pieces in the liquid mixture, submerging them completely. Allow to sit for 45 minutes.
Step 6
Take each piece of fish from the liquid and place them into the powdered mixture, turning them over to coating them thoroughly on both sides. Place to the side on a plate.
Step 7
Fill a pan about 1 1/2 inches deep with vegetable oil and heat it up over a medium setting. When oil is hot, add fish pieces until the pan has a few pieces in it, but do not overlap.
Step 8
Fry one side to a medium golden color. Flip over and fry the other side. Remove and place on a paper towel to absorb any excess oil. Serve and enjoy the perfect fried fish.
Tip
Olive oil is an excellent choice for frying fish.