For those who eat a gluten-free/wheat-free/low-carb lifestyle, spaghetti squash is the ticket to enjoying your favorite "pasta" dishes without the noodles. To roast it, all it takes is one large squash and about an hour of prep and cooking time. Read on for our easy-to-make instructions, as well as some delicious ways to enjoy your roasted spaghetti squash.
Things You'll Need
1 large spaghetti squash

Olive oil

Sea salt and pepper
Step 1: Cut the Spaghetti Squash in Half
Preheat the oven to 375 degrees Fahrenheit. Using a sharp knife, carefully cut the tip and tail off of the spaghetti squash. Stand the squash upright, and cut down the center length-wise.
Cut all the way through the squash, revealing the seeds.
Step 2: Remove the Insides and Seeds
Using a sturdy metal spoon, scoop out the insides and seeds. You can scrape firmly against the flesh in order to release the insides. Repeat for both halves of squash.
Step 3: Coat the Flesh with Olive Oil
Drizzle a small amount of olive oil over each half (about 1 to 2 tablespoons per half).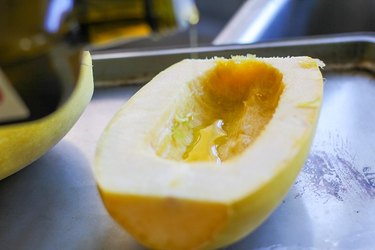 Smear the olive oil over all of the exposed squash flesh in order to lightly coat with oil.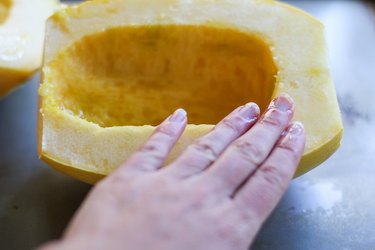 Step 4: Sprinkle with Salt and Pepper
Sprinkle the flesh of each half with sea salt and pepper.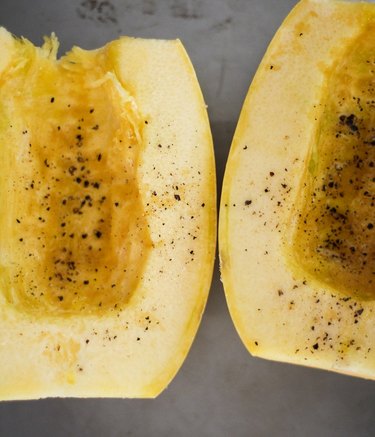 Step 5: Roast the Squash
Place the squash cut-side down on a cookie sheet. Roast in the oven for 40 to 50 minutes, or until squash is tender when poked with a fork.
Once the squash has finished roasting, flip each half cut-side up and allow it to cool enough to handle.
Step 6: Make the Noodles
Run a fork down the width of the squash, releasing the noodles. You can scrape noodles all the way down to the squash skin. Repeat for both halves of spaghetti squash, placing noodles in a large serving bowl.
Step 7: Serve
Serve the spaghetti squash noodles as is, or topped with your favorite homemade or store-bought sauce.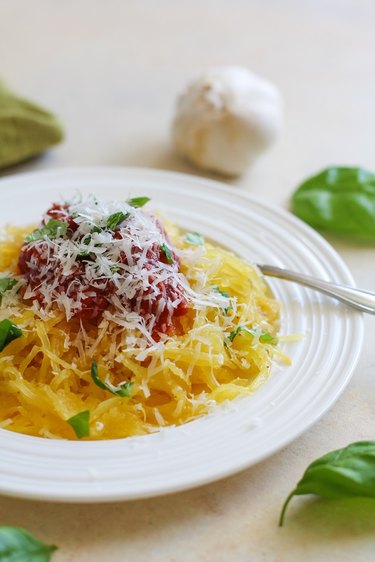 Tip
Serving ideas and suggestions:
Marinara sauce with basil and parmesan cheese

Alfredo sauce
Chicken
Shrimp
Sautéed vegetables
Sautéed garlic, butter and lemon juice