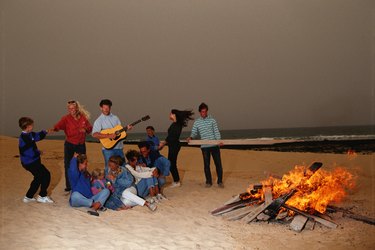 Gathering around a crackling fire with congenial company is not only for beaches, although it's a social tradition at many a beach. Wherever you host a bonfire party, choose a night with a clear sky in the forecast. Carefully select your location to match your requirements, plan a fire-friendly menu, add fun activities and music, and you'll be the bonfire host with the most.
Location and Legalities
Check regulations for the locations on your wish list. Many beaches don't allow bonfires while others have fire pits and sell wood for that purpose; still others allow you to burn driftwood on the sand. Check rules for anything affecting your party and narrow your list down to a short list. Some parks allow alcohol on the beach; others don't. Many beaches allow acoustic music; at others, anything goes. Hours people are allowed on a lake or ocean beach vary, too. Carefully read all the rules on the governing agency's websites for the locations you have in mind and call if you have questions.
Bonfire Safety
Don't burn anything that creates noxious fumes, such as treated lumber. Bring a bucket to fill with water to douse the fire. Covering fire with sand or dirt camouflages hot embers, creating a danger to barefoot beach walkers. If this is a backyard party, check local ordinances, which may have specific requirements such as using fire-pit screens with a minimum mesh size. During fire season, backyard fires may not be allowed at all. It's better to spend some time preparing than find out you need to switch locations after you've sent out invitations.
Claim Your Space
Once you narrow down your location choices, ensure the space for your bonfire party will be available. Beaches popular for bonfires, such as Huntington Beach's city and state parks in Southern California, quickly fill on holidays, and fire pits cannot be reserved -- although you can call dibs on one if you get there early enough in the morning. If this is the case, set up chairs and take turns holding the space.
Light the Night With Music
Encourage guests who play guitar or other acoustic instruments to bring them to the party. Or bring an digital player with speakers and playlists. Create playlists to suit you and your guests, whether electronic or vintage beach-party sounds. As Country Woman magazine suggests, have fun with a fire-theme playlist, adding songs such as the Door's classic "Light My Fire" and for Johnny Cash fans, "Ring of Fire." Another playlist idea: beach and tropical music such as that by Jimmy Buffet and the Beach Boys, and Hawaiian, Caribbean and Jawaiian (a mashup of reggae and Hawaiian) music. Interject a mellow song here and there for slow dancing and breaks for listening to the waves or whatever nature surrounds you.
Fire-Cooking Foods
Decide if you will bring prepared foods to heat over the fire or if you will make cooking food on the fire part of the fun. For a bonfire party set at a snow-play park or in the backyard on a crisp autumn night, heat chili and beans in a dutch oven. Any time of the year, grill hamburgers, steaks or seafood. Set up a table with cooking sticks and food for guests such as hot dogs and condiments; for kebabs, set out skewers and chunks of onions, peppers, pineapple and other fruits and vegetables. Fill coolers with ice and unbreakable containers of beverages. For a chilly night, serve hot beverages such as deluxe cocoa; keep the whipped cream in a cooler with bottles of water. And don't forget the s'mores.
Bonfire Party Games
For a special event that calls for a real party feel -- and especially if children are part of the scene -- add games to the mix. Hold the games far enough away from the bonfire so there's no danger of tripping and falling too close to the flames. Shadow play is a natural if kids are present. To make it more sporting, divide into teams and challenge each other to guess the animals or things the shadows portrays. If the party's on the sand or dirt, using a stick, play Pictionary. Limbo is a natural for a beach or backyard bonfire party with Caribbean or beach-blanket music.