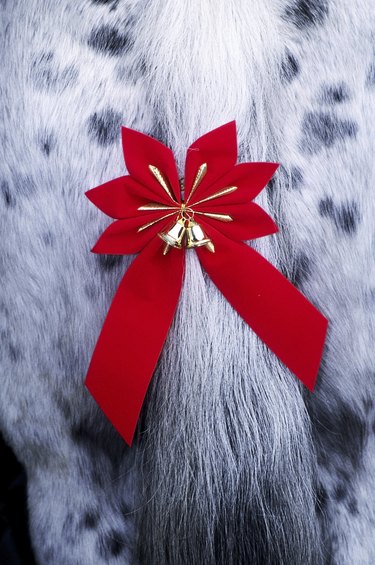 Holiday spirit knows no bounds during most Christmas parades. Floats are decorated, cars are decorated, even horses can be decorated. Mounted exhibitors can be decorated for Christmas parades with just as much color and excitement as any other exhibitor. With equal amounts of care and imagination (and some Christmas horse tack), your horse can be an eye-catching addition to any holiday parade lineup.
Basic Horse Decorating Ideas
Some riders are lucky enough to have horses who will tolerate elaborate costumes. Those with more excitable mounts should stick to less alarming touches such as paint, a few ribbons, colorful leg wraps, a decorative saddle blanket or some extra flashy reins. You can choose from many themes, such as historical, fantasy comedy, beauty or ethnic. You can partner with your horse only, as a team of two, or invite several other mounted pairs to share your theme and go as a group.
Daytime parades are a wonderful showcase for bright colors, sparkling glitter and interesting costumes. Elaborate details will shine during the bright light of day. Fun stencils are available with special equine glitters and paints, but you also can back-brush your horse's damp coat through the stencil and seal with a spritz of hairspray to create an interesting, more subtle design. If your horse is skittish about wearing bows and bangles, consider decorating yourself and your tack instead of your horse. Matching, brightly colored leg wraps, braided headstalls and reins and yarn braided into manes and tails can tie your look together, and DIY horse and rider costumes are a lot of fun.
For evening parades, strands of battery operated Christmas lights can set your horse apart from the crowd. Make sure they are attached securely and do not distract your mount. Food-grade, glow in the dark paints also may be a good option for nighttime parades. A battery operated black light fastened to the front of your saddle can enhance the intensity of glow paint or fluorescent colors. If the parade route will be well-lit, heavy applications of glitter will make your horse sparkle. In addition to glitter paints, glitter hoof dressings are available as well.
Christmas wreaths on horses are common in parades; be sure that yours is not ruining the experience for you or your horse by poking and scratching. Horses are uncomfortable if denied freedom of gait, so be sure that your decorations and costuming don't hobble him. While some horses are commonly called "bomb proof," it is always a good idea to practice wearing holiday decor for several sessions prior to the parade. He needs to know those reindeer antlers are nothing to fear. Make sure that all your decorations are break away, so that if an emergency arises, you can jettison the jewels and walk away.
Parades are filled with numerous sights and sounds that may spook your horse, even if you have practiced. Clingy costumes or twinkling lights may make your horse very skittish. It is better to remain safely at the staging area than to risk a panicked horse in an unwary crowd. Don't hesitate to put safety first and pass on the procession if you or your horse is not up to it.