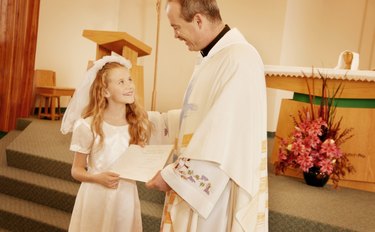 As one of the three sacraments of initiation into the Catholic church, your child's First Communion is worthy of a party. It's through these sacraments that your child becomes a full member of the church. During the First Communion, the child -- who is typically around age 7 or 8 -- receives the Holy Eucharist for the first time. Honor this special event with a celebratory party after the service.
Party Details
A First Communion party can range from an intimate gathering of very close family and friends to a large community shindig with the whole congregation on the guest list. Choose how many people you plan to invite, and then plan accordingly. For a small affair, you might host the party at your house or in a private room at a favorite restaurant; for a larger event, reserve a room at the church itself. Most First Communion parties take place immediately after the special event, though you can delay the party for a few hours if you prefer to host an evening affair.
Fete Decor
The First Communion isn't typically the time to decorate with sports, cartoons or other typical children's themes. Instead, keep the decor tasteful and subdued. Ask the child celebrating his First Communion to name his favorite color, and then decorate the party with that hue. Frame some of your favorite Bible passages; apt choices include 1 Corinthians 11:26, "For as often as you shall eat this bread, and drink the chalice, you shall shew the death of the Lord, until he come," and John 1:1, "In the beginning was the Word, and the Word was with God, and the Word was God." Set up a framed photo of the guest of honor, surrounded by white matting, so guests can sign their blessings.
Food and Drink
The menu for the First Communion celebration is determined by the time of day. For a lunchtime affair, set out sandwich fixings, green salads, fresh fruit and deviled eggs. In the evening, prepare trays of lasagna and baked ziti and serve them with garlic bread and green salad. Serve a sheet cake adorned with a cross or a Eucharistic chalice decoration and a note of congratulations for the child. If you have a lot of children attending the party, offer cupcakes for the little ones for less mess. Set out pitchers of water with lemon, lemonade and iced tea. For adults, offer a limited amount of beer and wine, if you think it's appropriate for your crowd.
Favors and Gifts
During the First Communion party, take a moment to give the guest of honor a special present to commemorate the event and say a few words about how proud you are. Appropriate gifts include rosaries, a Bible, a cross necklace, a missal or a keepsake box. You might also want to gift the guests a small token of appreciation for attending your party. Potential First Communion favors include religious-themed key chains, candles adorned with crosses or a bookmark with a biblical quote inscribed on it.