Chocolate and strawberries are always a good combination! Whether it's for a special occasion, a holiday or just a night in, chocolate covered strawberries are the perfect dessert. Try this easy recipe with a handful of kitchen items and ingredients, you can make a few dozen in no time.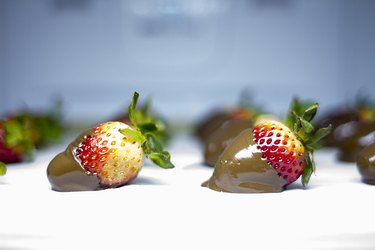 Things You'll Need
1 carton or at least 12 fresh strawberries

1 bag of melting chocolate or chocolate chips (semi-sweet or dark chocolate)

Double boiler or heat safe container and pot

Mixing spoon

Parchment paper

Paper towels

Cookie sheet
Step 1: Prepare the Cookie Sheet
Prepare your cookie sheet by lining it with parchment paper.
Step 2: Wash the Strawberries and Dry
Wash your strawberries gently with water and pat dry with a paper towel. Set them aside on a clean paper towel while you prepare to melt your chocolate.
Tip
Your strawberries will work best with the melted chocolate if they are completely dry.
Step 3: Fill Your Pot With Water
Fill your bottom pot of the double boiler halfway with water and bring water to a boil. Once the water is boiling lower your heat to a medium low setting.
Step 4: Prepare the Double Boiler
Place the top pot of your double boiler (or heat safe container) on top of the bottom pot.
Tip
The boiling water in your bottom pot will melt your chocolate in the top pot.
Step 5: Pour and Stir the Chocolate in the Top Pot
Pour your chocolate into the the top pot and start stirring your chocolate slowly with your mixing spoon. Mix the chocolate consistently to prevent it from burning.
Tip
Make sure to use a heat safe spoon while melting your chocolate and do not let it sit in your top pot too long or it will burn. Keep flame on a medium-low setting and check your water level, it should be about half way full while you're chocolate is melting.
Step 6: Dip a Strawberry Into the Chocolate
Once your chocolate is completely melted dip and twirl your strawberry ½ or ¾ of the way into the chocolate. Gently shake off any excess chocolate or brush off with your mixing spoon.
Step 7: Place the Chocolate Dipped Strawberry Onto a Cookie Sheet
Softly place your chocolate dipped strawberry onto your prepared cookie sheet to harden. Repeat step 6 and 7 for all your strawberries.
Step 8: Refrigerate the Strawberries
Keeping your chocolate covered strawberries on your cookie sheet, place your finished strawberries into the refrigerator for 1 to 2 hours before serving.