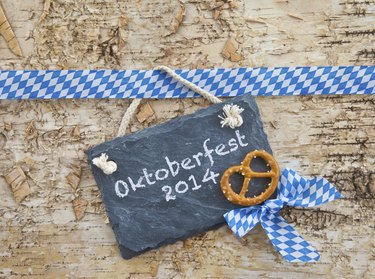 Whether large or small, indoors or out, an Oktoberfest party lends itself to decorating with both seasonal and Germanic themes. A blue and white checkerboard color scheme is traditional, since it mimics the colors in the Bavarian flag -- Bavaria being the location of the first Oktoberfest celebrating the marriage of two royal Bavarians in 1810. Since then, Germans celebrate from late September through early October each year, giving you the opportunity to mimic Bavaria's autumn leaves as well as its traditional festivities.
Welcoming Touches
Give your party guests a hearty "Wilkommen" with a large welcome sign posted on your front door, flanked by pictures of German steins and the German national flag. If you're feeling ambitious, build a large arch from cardboard and paint it in the blue-and-white traditional checkered pattern as the background for your Oktoberfest entry. Place pots of fall flowers, such as orange and red chrysanthemums, or fall leaves on either side of the door.
Decorations Indoors and Out
Continue the blue and white color scheme with balloons, streamers, pennants and an Oktoberfest banner hanging from the walls of the party room or strung between poles on a tent outdoors. String small and large pretzels from blue ribbons to hang off ceiling lamps or between tent poles, and paint large, cardboard cutouts of servers in Bavarian costumes holding a raft of beer mugs or an accordion player wearing traditional lederhosen; use travel posters of German Oktoberfest scenes instead of cutouts if you can find them.
Table Decor
Choose a blue and white tablecloth for the party table or use blue and white placements, paper plates and napkins. Drape the front of the table with a dark blue skirt for another pop of color and hang streamers from a central lighting fixture to create a tent-like atmosphere indoors. For a centerpiece, arrange German hats interspersed with German flags or set out a large bouquet of autumn leaves with pictures of beer mugs and flags glued onto wooden dowels as bouquet accents. Finally, snake a garland of fall leaves around all the table decorations.
Food as Decorations
Baskets of pretzels serve as Oktoberfest decor both on the party table and placed throughout the room. German beers and beer mugs arrayed on a separate table also work as party decor when you add the same kind of decorations on that table as you do on the food table and draw labels for the different beers with festive colors. And platters of traditional Oktoberfest food, such as German sausages, an array of different mustards, large bowls of sauerkraut and a plate of cooked red peppers, all contribute to the overall festive atmosphere.