Biscuits and gravy is the ultimate comfort food. We enjoy it as an indulgent breakfast, but it's hearty enough to be served as a main course - just add a few sides! For a real Southern-style meal, pair them with collard greens, fried eggs, and hot sauce.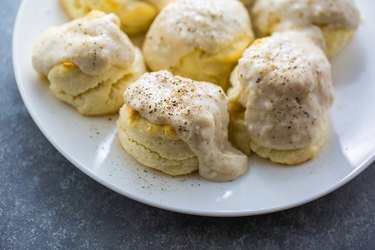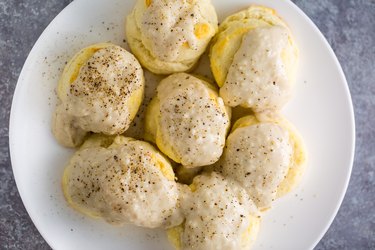 Ingredients for the Biscuits
Things You'll Need
4 cups all-purpose flour


2 tablespoons baking powder

3/4 teaspoon salt


3 tablespoons granulated sugar


2 ½ cups heavy cream

1/2 cup whole milk

1 large egg, lightly beaten

Ingredients for the Gravy
Things You'll Need
3 ½ tablespoons unsalted butter

3 tablespoons all-purpose flour

2/3 cup whole milk

1/2 teaspoon salt

1/2 teaspoon black pepper
Making the Biscuits
Step 1
Preheat the oven to 425 degrees Fahrenheit. Line a large baking sheet with parchment paper and set aside. In a large bowl combine the flour, baking powder, salt and sugar; mix well.
Step 2
Fold in the cream and milk. The dough will be shaggy.
Step 3
Turn the dough out onto a floured surface. Using your hands, roll it into a ball and then press it into a thick sheet, about a 3/4-inch thick. Use a 2 ½-inch biscuit cutter to cut out rounds of dough. Gather the dough scraps and continue to make rounds until there is no dough left. Arrange on prepared baking sheet. Brush the top of each biscuit with a little beaten egg, then bake for 12 to 15 minutes, or until puffy and lightly golden. While the biscuits bake, make your gravy.
Making the Gravy
Melt the butter in a small pan over medium-heat. Add in the flour and whisk until thickened, about 1 minute. Add in the milk, salt, and pepper and simmer until thick enough to coat a spoon, about 5 minutes. Remove from heat.
Serving Time
Transfer the warm biscuits to a serving plate. Generously pour the gravy on top and serve at once.