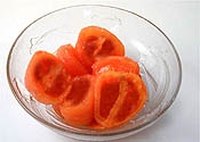 Most recipes for tomato sauce call for peeled and seeded tomatoes. Getting rid of the tough skin and the tiny seeds leaves you with nothing but pure tomato flesh for smooth sauces or to add to stews or casseroles. But peeling a tomato isn't as simple as peeling a potato -- it takes more work. Getting rid of the seeds is another step in itself.
Place a saucepan three-fourths full of water over high heat and bring it to a boil.
Lower the tomatoes into the water gently and leave them there for 1 minute. Use a slotted spoon to remove them from the water.
Set the tomatoes aside until they're cool enough to handle comfortably.
Pierce the skin of the tomatoes gently with the tip of a sharp knife. Loosen the skin with a paring knife and peel it away.
Cut the peeled tomatoes in half.
Hold the tomato half in your hand over a small bowl.
Gently squeeze tomato so the seeds fall into the bowl. Discard the seeds.