Classic shrimp gumbo is a filling, flavor-packed delicious meal that when combined with pasta becomes a can't-be-missed comfort food. While traditional gumbo can take hours to cook, this one-pot shrimp gumbo pasta requires only a few minutes of preparation, and just over 30 minutes of cook time. The end result is a well-rounded, satisfying dish that can easily be made any night of the week. This low-fuss recipe requires basic ingredients, most of which you already have in your pantry or refrigerator. Make the recipe up to 3 days ahead of time to serve throughout the week!
Things You'll Need
3 tablespoons olive oil

1 large yellow onion, diced

2 stalks celery, chopped

1 red bell pepper, cored and chopped

1 green bell pepper, cored and chopped

3 cloves garlic, minced

1 tablespoon Cajun seasoning

1 teaspoon sea salt, to taste

2 teaspoons dried thyme

4 cups low-sodium chicken broth

1 (28-ounce) can diced tomatoes, drained

1 pound raw shrimp, deveined

12 ounces pre-cooked andouille sausage links, sliced

1 (8-ounce) package penne pasta

1/4 cup fresh parsley, chopped
Step 1: Saute the Vegetables
Heat oil to medium in a large stock pot or sauce pan. Add onion and celery and saute until the onion begins to turn translucent, about 5 to 8 minutes. Add bell peppers, garlic, Cajun seasoning, sea salt and dried thyme. Continue cooking until the vegetables have softened, but are still al dente, about another 5 to 8 minutes.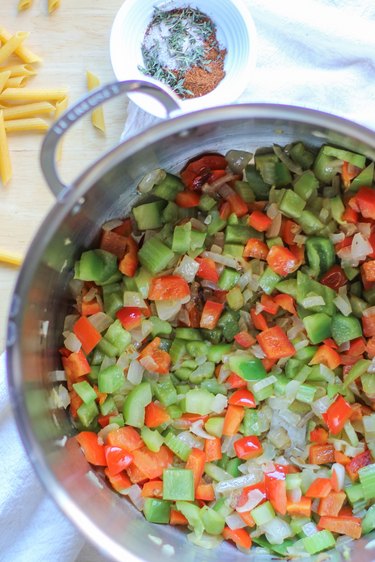 Step 2: Add the Liquid and Pasta
Add the chicken broth and diced tomatoes and bring to a full boil. Reduce heat slightly and allow the mixture to cook at a full (but controlled) boil for 5 minutes. Add the pasta and press it down into the liquid so that the noodles are submerged. Cook uncovered until pasta reaches desired done-ness, about 10 minutes.
Step 3: Add the Shrimp and Sausage
Add the andouille sausage and shrimp. Reduce heat to low, cover the pot, and allow the pasta to cook 6 to 8 minutes, until the shrimp has cooked through. Stir in the fresh parsley and taste the pasta for flavor. Add sea salt to taste and serve!