Picture this: you've just closed a deal on a rental in your dream neighborhood, but it's not your ideal living space. The fixtures and appliances are grimy and well-used, and the boxy rooms with dirty walls feel sort of sterile. It's hard to envision how to make a place like this feel luxurious and relaxing. Sound familiar? The easiest way to solve this problem, without pouring lots of money into renovating something you don't own, is to bring in cozy elements throughout all of the rooms. It's time to go into nesting mode and get started on do-it-yourself projects to elevate your rental from sh*thole to oasis. Here are 13 DIY ideas to make yourself completely at home.
Stock Up on Textiles
The first secret to making a space cozy is introducing lots of throw blankets and pillows to drape across seating and your bed. Moroccan wedding blankets are insanely stylish and versatile, and you can sew one for a fraction of a store's price.
Paint Cozy and Chic Pillows
Just because you're renting your apartment or house doesn't mean you can't take part in hot home trends. Kilim is super popular right now, and painting designs on pillows you already have or can buy for a few bucks is a great way to spend a weekend afternoon nesting to your heart's content.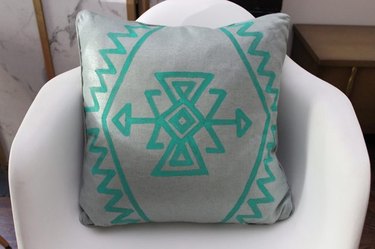 Rethink Your Rug Game
Rugs are a great way to make a room homier, but they can be insanely expensive and unimaginative. You can craft your own out of pom poms and experiment with yarn colors, textures and size to get a rug that's just your style. Putting it in the living room or next to your bed will up space's coziness factor.
Set the Mood with Ambient Lighting
Rentals are notorious for having ugly lighting fixtures that don't illuminate the entire space. In addition to setting up table or floor lamps, you can DIY a set of candles for a coffee table or the bathroom shelf. To further customize your candles, add your favorite floral fragrance.
Pick a Favorite Scent
Having trouble masking funky odors left behind by previous tenants? Consider what your mom and grandma have already been using for years: potpourri. After your favorite farmer's market blooms start to wilt, use them to keep your home smelling fresh and clean.
Get Out All of Your Photos
Have a lot of photos of friends and family, but not enough frames? Try other photo projects, like decoupaging photos onto wooden blocks or letters. Both would look great grouped together on a mantel or on top of a dresser.
Refresh Your Desk
Bring the Outdoors, Indoors
One of the easiest ways to make a tiny rental feel like a sanctuary is to bring in plants. Gardening without a backyard is totally doable, and you can find an option that works well with your schedule and lifestyle.
Give Simple and Inexpensive Pieces New Life
Baskets are an easy way to store things like extra pillows, toys or magazines without investing in a piece of furniture. Pick up a few different-sized baskets from Ikea and give them some flair. Tassels are super easy to whip up, and grouping them on the side of a basket makes for a stylish addition.
Upgrade Your Storage Spaces
Having a tiny space means that you probably don't have a lot of storage options to hide away clutter. No worries — you can build this upholstered ottoman to stash away books, DVDs or hobby supplies. This ottoman can stay in the living room as a spot to put your feet up, or move it to the dining room for extra dinner party seating.
Pick a Hangout Spot
If your building manager is cool with you drilling holes in the walls and ceiling, you have to try this swinging hammock chair. Carve time out of your weekend for a project that will make your living room or bedroom the coolest part of your whole place.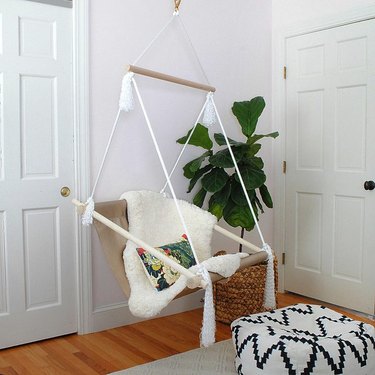 Snuggle in With Style
Instead of devoting all of your walls to mirrors or artwork, use a little bit of it for this leaning blanket ladder. A blanket ladder is also a great thing to have if you like to host movie or game nights: your guests can easily pull out a blanket and get comfortable.
Cuddle Up and Enjoy Your Space
Another way to max out coziness is to create a spot where you can settle in with a good book and relax. Build a book rack to house them all in one spot, and put it in a room where you like to spend the most time. When you look around and see that you've turned a borderline-horrible rental into a place you always want to be, that's when you'll know you're at home.