There are a number of reasons you shouldn't underestimate humble glass jars: You can use them to organize your desk supplies, create a simple floral display, or even serve cocktails. They come in all shapes and sizes, and you can always find the perfect container for the job -- just imagine the possibilities. And by reusing them, you're doing your bit for saving the earth. This super easy DIY shows you how to decorate your empty jars to use however you choose!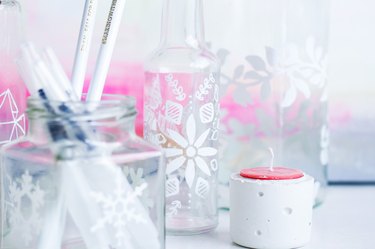 Step 1
Clean and dry the jars thoroughly.
Step 2
In this tutorial, deciding how to design the jars is the hardest part. To help you out, we've included two free printable templates: Geometric shapes and leaf garlands.
You can simply print the templates and use them as they are, or you can cut out the individual shapes to create your own customized pattern. Use masking tape to hold the template in place inside the jar so you can trace the pattern directly onto the glass.
Step 3
Trace your design onto glass using the paint pen. Shake the pen for thirty seconds and test on a piece of paper before starting on the glass.
Tip
It's useful to keep a wet cloth or cotton swab close by, so if you make a mistake quickly wipe off the paint before it has a chance to dry.
Be sure to cut up the template and turn the jar to create patterns that run all the way around the circumference of the jar.
Step 4
Once the outline is finished, you can use the pen to color in the design making it much bolder on the glass. Leave the paint to dry and it's ready! No need to bake to set.
If you need to clean the jars use hot, soapy water and a sponge to gently clean over the painted design. Do not put in the dishwasher. If you accidentally scratch off any of the paint just paint over and it's as good as new!
Paint pens are extremely versatile, so don't be scared to try out different designs. Your imagination is the limit!