Take your next soiree up a notch by serving drinks and snacks on this elegant do-it-yourself marble serving tray. With a piece of marble floor tile from your local home improvement store, drawer pulls and gilding paint, you can create this conversation piece in a matter of minutes.
Gather Your Supplies
Things You'll Need
Marble floor tile

2 drawer pulls

Four screws to fit through the thickness of the marble and into the pulls.

Tape measure

Painter's tape

Pen

Drill and drill bit the size of your screws

Liquid gilding paint

Small paint brush

Plastic bumpers

Clear gloss enamel spray (optional)
Measure, Drill Holes and Attach Handles
On opposite sides of the tile, where you want your handles to be, use your measuring tape to find the middle and make a small mark 2 inches from the edge. Place a piece of tape at least the width of your handles just below the mark, close to the edge of the tile. Using the middle point as a reference, measure the holes on your handles where the screws go and mark the spots on top of the tape.
Drill all the way through the tile where you made the two marks. Marble is brittle and not difficult to drill. Plus, the tape keeps the edges from splitting.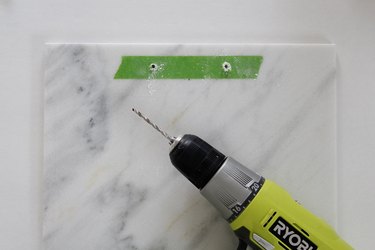 Place the screws through the holes and attach the handles using your drill. I used #6-3/2-by-3/4-inch machine screws.
To protect your table or countertop, attach five self-adhesive plastic bumpers to the bottom of the tile -- one near each corner and one in the middle.
Paint a Design on the Tile
Place tape around the edges of the tile and paint the sides. Then, tape off the design you want and paint those areas. I used a natural bristle brush to paint three small stripes with gold liquid gilding paint.
Remove the Tape and Let the Tray Dry
Remove the tape gently while the paint is still wet to create a crisp edge. Let the paint dry at least 1-2 hours, and then use the tray for all of your serving needs. You can even wash it gently with a soft sponge and a little soap and water.
The tray can also be used to display toiletries in a bathroom or items on a bar cart.
Warning
The paint you use most likely isn't food safe, so don't place food directly on the painted areas. Refer to the label on the paint type you choose.