Are you looking for ways to increase the feeling of warmth in your home? With just a few simple (and dare we say clever) tricks, you can easily add a cozy, stylish vibe to your space. These 10 must-have goodies will get you well on your way to a radiant home as we head into the winter season.
1. Nest Learning Thermostat ($249)
Install a Nest Learning Thermostat to ward off energy inefficiency during the colder months. Nest
learns your patterns and temperature preferences, and then programs itself. Plus you can connect it to your wifi so that you can control it from your smartphone, tablet, or computer. Oh, and did we mention that it'll also save on your heating bill? How's
that
for a smart solution?
2. Moroccan Kilim Area Rug ($120)
Seeing a dose of neon pink upon entering a room is a sure-fire way to warm up and energize any space, especially when placed over a hardwood or cement floor. So, sink your toes into this super saturated Moroccan Kilim area rug -- we swear it'll help ward off the winter doldrums!
3. Faux-Fur Throw ($90)
When the weather outside is frightful, having extra blankets readily available throughout your home is a must. Stylishly draped across the arm of your favorite chair, sofa, or at the foot of your bed, a faux-fur throw provides instant warmth and coziness. It's pretty irresistible, don't you think?
4. D.S. & Durga Portable Fireplace Scented Candle ($65)
This fireplace-scented candle allows you to enjoy the warming, sweet scent of the season even if you don't have the luxury of a real life wood-burning fireplace. Just light it, step back, and enjoy the ambiance without the fuss.
5. Piano Black Evoluo Deluxe Nespresso Machine ($249)
When you're feeling chilled to the bone after spending all day out in the elements, serve yourself a steamy cup of espresso. This single-serve Nespresso machine saves you time and money long-term, too, by allowing you to skip the drive-thru.
6. Crosley "Set the Record" Turntable ($100)
What's more inviting than the sound of music filling your home? Since you may be spending more time indoors during the colder months, why not invest in a record player outfitted with your favorite tunes. There's nothing cooler than this Crosley turntable. It'll add analog ambiance to your abode. So grab one of those aforementioned cozy blankets, a cup of espresso, light that candle and relax with some sweet sounds.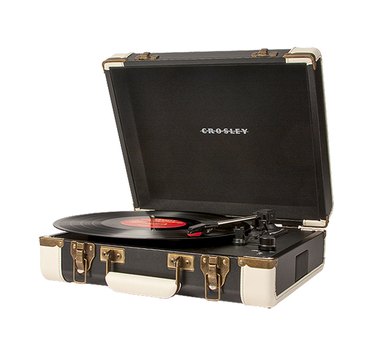 7. Moroccan Tile Room-Darkening Curtains ($70)
Outfit your windows with a pair of room-darkening curtains to help keep chills at bay. The heavy blackout material can be pulled in front of glass to seal out drafts, while the bright color brings a fresh and homey feel to your interior. Just because it may be dreary and gray outside doesn't mean you can't be bright and bold inside.
8. Radiant Floor-Warming Mat ($147)
You won't mind doing the dishes while parking your toes on top of a heated floor. While this radiant-floor warming mat needs to be placed under your tile, it's way cheaper than you'd think to have it installed. You and your feet will wonder why you waited so long.
9. Indoor Window Insulator Kit ($15)
Renters and budget-conscious homeowners who don't have the luxury of replacing inefficient windows can turn to temporary window insulators when Jack Frost comes to town. This indoor window insulator kit allows you to block out drafts for less than $20.
10. "Malibu Surf And Sky II," by Kamala Nahas ($165)
If all else fails to bring you warmth this winter, try soaking up some imaginary summer sun with a framed beach art print. This one by artist, Kamala Nahas, instantly transports you to the sunny coast.