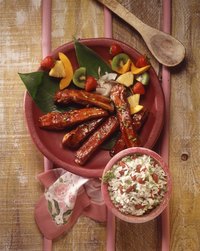 Low and slow cooking in the oven results in moist, tender ribs that rival the best meat cooked by top grill masters. It's a no-muss, no-fuss method requiring very little prep time. Seasoning can be a simple matter of pouring on bottled barbecue sauce or creating your own. It takes about two hours to cook 4 pounds of country-style or baby back ribs. If you're having company, plan on three or four ribs per guest.
Things You'll Need
Barbecue sauce or seasonings
Roasting pan with rack and cover
Aluminum foil
Basting brush
Probe thermometer
Preheat the oven to 300 degrees Fahrenheit.
Remove the ribs from the packaging. Pour barbecue sauce over the ribs, flip them and coat the other side with barbecue sauce. Line the roasting pan with aluminum foil and place the ribs on the rack in the pan, meaty side up, and cover, either with a tight-fitting lid or with aluminum foil.
Put the roasting pan on the center rack of the preheated oven and cook for two hours. Every half hour, baste the ribs with the sauce that has collected on the bottom of the pan. After 1 hour, flip the rack of ribs and continue cooking.
Slice the ribs into individual serving sizes of two or three ribs each.