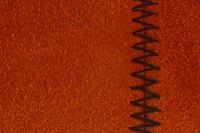 The velvety texture of suede is attractive, but not the most durable surface when it comes to home furnishings and accessories. This type of leather, made from the flesh side of an animal skin, is soft and absorbent and usually is not treated with a protective finish. You can soften the blow of the inevitable first stain or scuff on your suede furniture, throw pillow or other accessory by distressing suede yourself for an artistically aged piece with a look you'll love.
Things You'll Need
Leather or fabric wax
Shoe brush
Examine your suede piece and determine whether you want to distress it just where it would get the most natural wear, or all over.
Rub your suede item lightly all over, or at the edges, seams and surfaces where it would naturally become worn, using a sanding sponge. Every stroke should take away a little of the raised nap. Don't rub too long in any one spot to avoid going through the suede.
Bang up the piece with a few blows from a chunk of rock. If the item is small enough, you can place it in a bag or pillowcase with a few rocks and shake it or bang it against a concrete surface for a more random effect.
Scrape the surface of the suede with the edge of a key, your fingernails or other slightly sharp tool at random places. Start from the outside and move in, using light pressure until you gauge how deep you can scratch without tearing the suede to get the look you want.
Rub a block of fabric or leather wax over the surfaces of your suede piece. This smooths and darkens the suede, making it look more like old leather that has passed through many hands. The wax also seals the suede against water.
Brush the entire surface of your suede piece with a soft-bristled shoe brush to remove any debris from the distressing process and to smooth the nap and blend different areas that you worked over.