Things You'll Need
Black pepper and kosher salt

Garlic or onion powder (optional)

Cheese (optional)

Meat thermometer

Burger buns

Condiments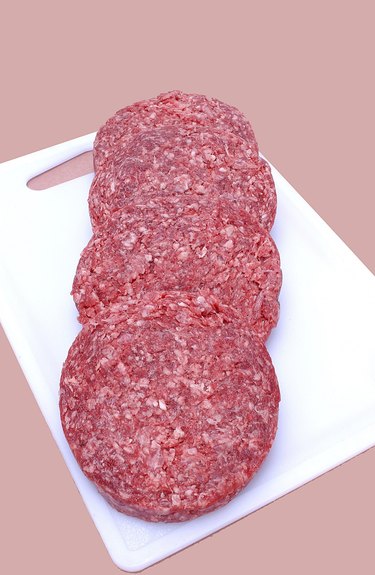 Frozen burger patties, whether you made them ahead and froze them, or you purchased them from the store, make it possible to enjoy a burger any day of the week. Frozen patties have just as much beef flavor as fresh-made burgers, but since they're already formed, you won't be able to impart any flavors inside the burger patty. Instead, you must apply the right seasonings and toppings after the fact to create a delicious-tasting, from-frozen burger.
Step 1
Bring your patties to room temperature before cooking so that the meat cooks evenly, and you don't dry out the beef. Use a hot cooking surface that creates a good sear; don't overcrowd your patties -- keep them at least 1-inch apart. Don't press down on the patties while they cook; you'll squeeze out the juices and get a dry burger.
Step 2
Season your beef liberally with kosher salt and black pepper. Add additional seasonings, such as garlic or onion powder for additional flavor before cooking, if desired. Cover each side of the patty evenly with your seasonings.
Step 3
Add cheese to give your frozen burgers more flavor and extra fat for moisture. Cover the patties with the cheese a few minutes before they finish cooking so that the cheese has time to melt. Sharp cheeses, like sharp cheddar or white cheddar, will give your burgers more flavor than mild cheese such as American.
Step 4
Use a meat thermometer to get the right temperature. Take your burgers off the heat at 120 degrees Fahrenheit for a rare burger; 130 degrees F for medium-rare; 140 degrees F for medium; 150 degrees F for medium-well; and 160 degrees F for a well-done hamburger patty.
Step 5
Choose the right bun for your burger, a bun similar in size to the patty. Add extra flavor to your burger by using a brioche roll, salted pretzel roll or a piece of Texas toast. Toast the buns to keep them from getting soggy and to add a little crunch.
Step 6
Get creative with toppings and add additional flavors that complement seasonings you've already put on the patty before cooking it. Ranch dressing adds refreshing flavor and tang to a frozen patty. Smoky, fried bacon adds a layer of fattiness and flavor to a frozen burger. Grilled onions or sauteed mushrooms add more texture and flavor to your burger. Traditional condiments are always welcome; just remember the more bold and flavorful the condiment, the less beef you might taste.
Tip
If making your own frozen patties, add flavors like garlic powder, chopped onions or cilantro into the meat to add flavor before you form and freeze the patties.