Things You'll Need
Raw pistachios, dye-free and in the shell

Pot

Water

Food-storage container

Colander

Kitchen towel, optional

Rimmed baking sheet

Spice grinder

Mixing bowl

Powdered sugar or all-purpose flour

Whisk

Flour sifter

Sealable food-storage bag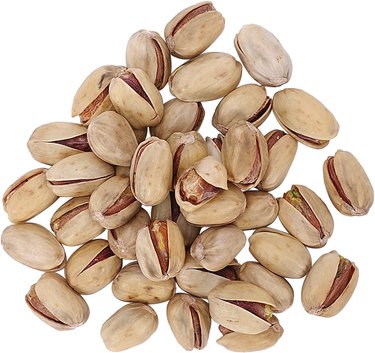 A mild flavor redolent of avocados, a hint of tartness and an undercurrent of sweetness makes pistachios a higher class of nut. Pistachio flour adds a velvety mouthfeel and buttery texture to baked goods, and toasts up like caramelized gold when sprinkled on baked confections. These premium qualities, however, come at a premium price, as any pastry chef will tell you -- yet another reason you should make your own pistachio flour. Pistachios are 46 percent fat, however, so you must add an absorbent ingredient, such as confectioner's sugar, to produce a dry, finely textured flour that elevates any confection to another level.
Step 1
Shell the pistachios. One cup of shelled pistachios yields about 1 1/2 cups of pistachio flour.
Step 2
Fill a pot with water and bring it to a boil on the stove. Pour the shelled pistachios in a food-storage container or large mixing bowl. Heat the oven to 200 degrees Fahrenheit.
Step 3
Pour enough boiling water over the pistachios to cover them and let them blanch for about two minutes. Drain the pistachios in a colander and hold them under cold running water until they are completely cool, about four minutes.
Step 4
Slip the skins off the pistachios by rubbing them between your fingers or rubbing them in a kitchen towel. Transfer the pistachios to a rimmed baking sheet in an even layer and place them in the oven.
Step 5
Dry the pistachios in the oven for 12 to 15 minutes, then take them out. Let the pistachios cool to room temperature.
Step 6
Place the cooled pistachios in the bowl of the spice grinder and pulse them until they're broken up into 1/4-inch chunks. Empty the pistachios into a mixing bowl. Continue pulsing the pistachios in batches and adding them to the mixing bowl until you've ground them all to chunks.
Step 7
Sift powdered sugar or all-purpose flour into the mixing bowl with the pistachios to absorb the oil released during the grinding process. Add 1 tablespoon of powdered sugar or flour for every cup of pistachios. Whisk to combine.
Step 8
Add the pistachio mixture in small amounts to the bowl of the spice grinder. Pulse the pistachios again, this time to a fine powder or just until they start to feel moist.
Step 9
Transfer the pistachios to a flour sifter and sift them over a bowl.
Step 10
Return any larger pistachio pieces that are sifted out to the bowl of the grinder with the next batch of pistachios. Continue pulsing the pistachios and sifting them in the sifter until you have ground all of the pistachios to flour.
Step 11
Store pistachio flour in a sealable food-storage bag in the refrigerator for up to a month, or in the freezer for about three months.
Warning
Substitute no more than 1/4 of pistachio flour for wheat flour in baked goods.