Things You'll Need
Colander

Paring knife

Olive oil

Lemon juice

Sea salt

Cracked pepper

Red pepper flakes

Steamer basket

Saucepan

Garlic

Skillet

Pasta, cooked

Shaved parmesan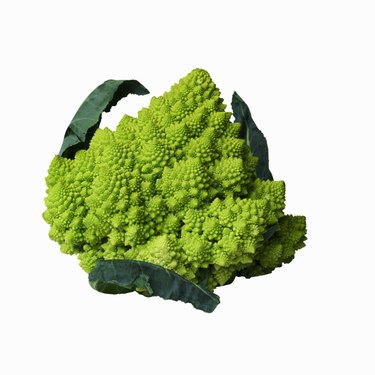 Romanesco goes by many names, including – confusingly – romanesco broccoli and romanesco cauliflower. The decidedly alien-looking vegetable is quite possibly the result of selective breeding practiced in Italy as far back as the 16th century. While romanesco looks a little like very well-coiffed broccoli, its flavor is more like sweeter, milder cauliflower that has a nutty taste that gives it depth. Romanesco can be prepared and served in all of the same ways that broccoli and cauliflower can.
Step 1
Rinse your romanesco thoroughly in cool running water and set it in a colander to drain. Slice off the florets in bite-sized pieces. Toss them with olive oil, lemon juice, sea salt, cracked pepper and red pepper flakes and serve them raw as a side salad.
Step 2
Steam whole romanesco in a steamer basket until the color deepens and you can clearly smell its scent. This should take about 5 minutes, depending on the size of the romanesco. Cut the romanesco into small florets and toss it with olive oil and your preferred seasonings and serve as a side vegetable.
Step 3
Blanch romanesco by submerging it in boiling water for 2 to 3 minutes. Plunge it immediately into ice water to stop the cooking process. Cut the romanesco into florets. Saute the florets in a skillet with olive oil and garlic until they are crisp-tender and starting to brown. Season with salt and pepper to taste.
Step 4
Toss blanched romanesco with cooked small pasta shapes such as ditalini, orecchiette, small shells or small elbows, Drizzle with olive oil and top with shaved Parmesan cheese for a quick and satisfying lunch or a savory side dish.
Tip
Add romanesco to your favorite baked casserole recipe calling for either broccoli or cauliflower to add a new twist to a familiar dish.
Warning
Never overcook romanesco because it will get soggy and tasteless.