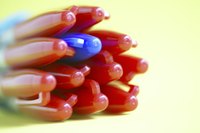 Available in almost every color imaginable, Sharpies are permanent markers that you no longer have to reserve just for paper. Since the Sharpie company's creation of a line of paint pens, creative people everywhere can map out their designs on wood, glass and even ceramic surfaces. You can create a border around dinnerware or personalize your holiday gifts. Or, turn a wooden bowl, old jewelry box or wooden coasters into works of art.
Things You'll Need
Paper
Pencil
Tracing paper
Rag
Mild dish-washing soap
Eraser
Carbon or graphite paper
Sharpie oil-based paint pen(s), fine- and medium-point
Varnish or polyurethane spray sealant (optional)
Sketch or trace your design idea onto a piece of plain paper. Plan the colors you want to incorporate.
Clean off the wooden surface with a rag and mild dish-washing soap, clearing away any dust or dirt particles. Allow it to completely dry.
Tape the carbon paper onto the wooden surface and the sketch over it. Using the pencil, trace over the lines, transferring the image to the wood. Occasionally lift up a corner of the paper to check the drawing alignment. Use an eraser to clean any smudges.
Use a fine-point Sharpie to outline the design and a wide-point marker to color the middle. Choose bold patterns to create designs such as polka dots and stripes. Create straight lines using painter's tape or use stencils for pattern designs. Combine both cool and warm colors into the design.
Seal the decorative design with a light coat of varnish or polyurethane spray. Allow to completely dry.