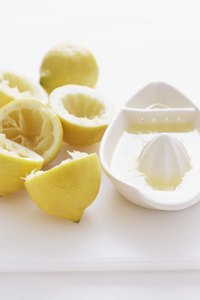 Fresh lemon juice has many uses. Beyond making lemonade and other beverages, a squeeze or two from a fresh lemon adds brightness to pasta, salads, seafood and other dishes. You can also use fresh lemon juice to make your own buttermilk or to add a citrus flavor to iced tea. Though you can find bottled lemon juice at most grocery stores, fresh lemon juice has a brighter taste. Heating the lemon makes it easier to squeeze and will yield more juice.
Things You'll Need
Citrus juicer or reamer, optional
Rinse the lemons under running water to remove any residue. Pat dry.
Roll each lemon back and forth a few times on a counter top or table. This helps break down some of the fibrous flesh of the fruit, and will get more juice out of the lemon.
Heat the lemons in a microwave for 20 to 30 seconds at full power. Actual heating time is determined by the wattage and temperature settings of your microwave. Fruit heated in smaller microwaves, which are typically 600 to 800 watts, will take slightly longer to warm. Midsize and larger microwaves are usually rated between 850 to 1,650 watts, and will heat the lemons slightly faster. The lemon should feel just warm to the touch, but not hot. Heating the lemon coaxes out as much juice as possible and makes it easier to juice the fruit.
Cut each lemon in half. Using your hands, squeeze the juice out of each lemon over a strainer to catch seeds. Alternately, you can use a handheld or automatic juicer or citrus reamer to get the most juice out of each one. A reamer is a small wooden or metal tool that helps dislodge seeds while juicing the lemon. Relatively affordable, you can buy them at most cookware shops and larger grocery stores.