Things You'll Need
PVC door

Drill

Hammer drill

Hammer

Carpenter's level

Screwdriver

Screws, 6- to 8-inch

Masonry screws, 6- to 8-inch

Screw anchors

Caulk

Polyurethane foam

Paper tape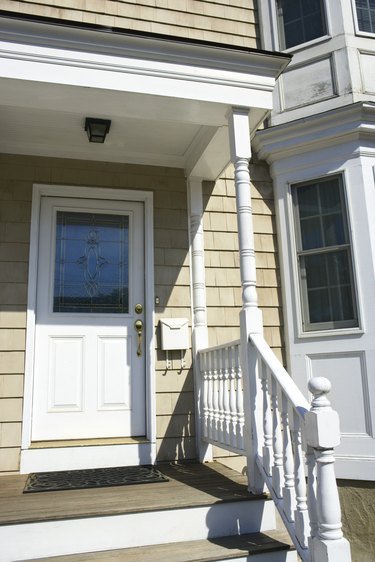 Manufacturers market both polyvinyl chloride (PVC) and the more rigid unplasticized polyvinyl chloride (UPVC) doors, although UPVC products are often called PVC. Both types of PVC doors come assembled. The main chore, installing the frame, is the same for both PVC and UPVC doors. Attaching the door to the frame is the easy part. If you are replacing a door, you have make sure that there is at least 1 inch of extra space at the top and sides of the opening to fit the new frame and door.
Step 1
Assemble the frame according to the manufacturer's instructions and set it into the wall opening. Use the level to ensure that the jambs are plumb and the header is level. If necessary, insert shims behind the jambs to make them plumb.
Step 2
Drill holes appropriate for your screws into the two-by-fours. If you are installing the frame in masonry, you have to drill holes for the plastic sleeves that anchor concrete screws. Wrap a piece of tape around your drill bit to mark the depth of the plastic anchor. Insert the anchor and tap it into place with a hammer.
Step 3
Drive the screws or concrete screws snugly into the two-by-fours in the door opening or screw anchors.
Step 4
Fill the space with caulk if the gap between the frame and opening is less than 1/2 inch. If the space is larger than that, fill it with polyurethane foam. Some frames come covered with protective tape. If your frame is not covered with protective tape, cover it with paper tape to ensure that it is not fouled with caulk. Let it dry.
Step 5
Remove the protective tape and insert the door into the frame. The hardware for attaching a PVC door to its frame varies with the make and model of the door. PVC doors typically have two hinges. Screw the hinges onto pre-drilled holes in the frame. The screws are usually included with the installation hardware that accompanies the door..
Tip
To ensure that the frame remains square while you are screwing the sides into place on the jambs, insert a two-by-four from jamb to jamb just under the header.