Things You'll Need
Vaccum with upholstery attachment

Water

Water-based soap or foam upholstery cleaner

Soft cloth or sponge

Paper towel

Soft-bristled brush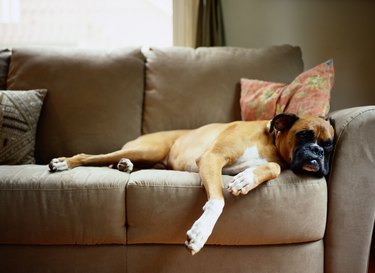 Dura fabrics -- which include Durapella, Durablend and Duraplush -- are signature synthetic suede and leather fabrics trademarked by Ashley Furniture Industries. Dura fabrics are specifically designed to be stylish and durable, yet easily cared for and cleaned using water and a mild, water-based soap. As with most living room furniture fabrics, spills and stains will happen. Attend to any cleaning issues promptly to help keep the Dura fabrics looking neat and fresh.
Step 1
Vacuum Dura suede-type fabrics -- DuraPella and Duraplush -- weekly using the upholstery attachment to remove surface soil, lint and pet hair. Routinely wipe down Durablend leather-blend fabric with a damp, soft cloth to remove the same.
Step 2
Blot any spilled liquids, such as water, juice or soda, immediately with a soft cloth or paper towels. Press down firmly and hold the soft cloth or paper towel on top of the spill for a minute or so to allow the moisture from the spill to be absorbed. Repeat until no more moisture is absorbed.
Step 3
Clean all spots and stains on Dura fabrics using a mild, low pH water-based soap. Dampen a clean, soft cloth or sponge with water and a small amount of water-based soap. Don't saturate the fabric with water. Blot the stain or spot repeatedly with a clean area of cloth until the entire soiled area is completely clean.
Step 4
Use a foam upholstery cleaner on Durapella or Duraplush fabrics as an alternative to water-based soap. Spray the foam lightly over the stain or spot and let it sit, following the manufacturer's directions as to how long to let the foam sit. Blot the stain away using a soft cloth or sponge until the stain has been removed.
Step 5
Let all Dura fabrics air dry after cleaning. Durapella and Duraplush suede-like fabrics may take a bit longer to dry than Durablend leather-blend fabric.
Step 6
Brush Durapella and Duraplush lightly with a soft-bristled microfiber or suede brush after cleaning to restore the fabric pile to its normal appearance. Durapella fabric doesn't require brushing after cleaning.
Tip
Keep newspapers and magazines off any Dura fabrics. The printing ink can seep into the fabric and cause staining.
Flip the pillow cushions and cushions on a regular basis to keep Dura fabrics looking clean and evenly worn.
To prevent rings from forming on the fabric, clean all spots and stains by working from the outside in toward the middle.
Warning
Clean all Dura fabrics on the piece of furniture itself. Don't remove cushion or pillow covers to launder in a washing machine as they can shrink or stretch out of shape.
Never use strong detergents or cleaning solvents to clean Dura fabrics.
Protect Dura fabrics from coming into contact with other cleaning products you use near the furniture. Harsh cleaning solvents and chemicals can damage Dura fabrics and cause them to fade.