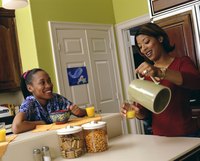 Adding a breakfast bar to an existing countertop requires a lot less effort than installing the countertop. There is no need to create a stable base of cabinetry when adding a breakfast bar, as there would be when installing a countertop. As long as you have enough room to accommodate the bar and seating, you can use the existing countertop as the support base. Only the bar surface and a few countertop braces are required.
Things You'll Need
Tape measure
Preformed laminate countertop
Countertop brace
Clamps
Carpenter's level
Marker
Drill with screw bits
1/4-inch lag bolts
Socket wrench
Measure the length of the countertop for the new breakfast bar using a tape measure. Divide the measured length by 12 inches to determine the number of braces you'll need to support the bar. Order your preformed laminate countertop to fit the measured length. You can use a solid surface countertop as well, as the installation process is the same.
Place two countertop braces onto the rear of the countertop cabinet with the top of the brace set even with the base of your breakfast bar surface. Make certain your breakfast bar will have enough room beneath it for comfortable seating. Braces come in multiple sizes to provide the height necessary. Position each brace about 2 inches inside the side edges of the breakfast bar. Clamp the two braces in place with C-clamps. Place a carpenter's level over the two braces. If the space is too long for a level, choose a flat board to span the distance and place the level onto the board. Adjust the braces so they're level, and mark the location of the mounting holes on the base of the braces against the cabinet with a marker. Remove the braces.
Empty the cabinets where the braces will be attached. Drill holes into the marked brace mounting points with a 1/4-inch drill bit to a depth that's equal to the cabinet wall's thickness plus the brace's thickness, minus 1/4 inch. Set the braces back into place, and secure them through the mounting holes with 1/4-inch lag bolts that won't protrude from the rear of the cabinet wall. Tighten the bolts in place with a socket wrench.
Continue to place braces at the same height every 12 inches to fill the space between the two outside braces. Ensure each brace is level relative to the other installed braces before marking the mounting points and drilling the mounting holes.
Set the preformed laminate countertop onto the braces, centered on the two outside braces, with the rear edge of the countertop set against the rear of the line of braces. Mark the mounting points on the base of the countertop. Drill 1/4-inch holes into the base, and secure the countertop to the braces with lag bolts.