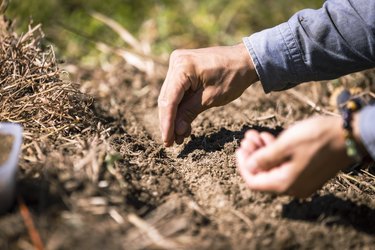 Gardeners work hard to keep their plants fed and watered, but sometimes, you can overfeed your plants, and too much nitrogen is often a result. Nitrogen is key for growing healthy, leafy green plants. However, too much nitrogen can mean that your vegetable and fruit plants produce mostly foliage with scant or no vegetables or fruit. Without enough nitrogen, you may get stunted plants.
Healthy soil has three important nutrients: nitrogen, phosphorus and potassium. You need all three for your plants to thrive in the garden. The NPK ratio, which stands for nitrogen, phosphorus and potassium, is usually equal parts of each, like 4-4-4.
Things like cover crops and manure can add more nitrogen to your soil than you realize, and then your garden's NPK balance can go out of whack. Even if you make your own compost from kitchen scraps, the ratio of nitrogen may be higher than phosphorus and potassium.
Combine that with adding a balanced fertilizer and your plants may become quite leafy, but their production of veggies or fruits may be lacking. Your carrot tops may look healthy and lush, but the carrot in the soil may look withered and small. You can't test the soil yourself to definitively see if there's a deficiency, but you can take it to your local extension office to see if your soil is nitrogen deficient.
How to Add Nitrogen to Soil
Nitrogen is a tricky nutrient. Although soil can sometimes have too much, it's also easy for soil to lose nitrogen. Rainwater and snow melt can wash away nitrogen. Bacteria in soil consume nitrogen. Replanting crops in the same soil year after year can deplete nitrogen from the soil.
You can also add nitrogen organically. Just remember that when you're adding organic nitrogen, make sure you don't overdo it, as this will cause too much nitrogen in the soil and trigger your plants to produce that excess leafy growth without the produce. These methods include:
Using a fertilizer rich in nitrogen
Adding blood meal, which comes from butchered animals and is a rich source of nitrogen
Adding alfalfa meal, a more plant-friendly source of nitrogen
Adding fish emulsion, which is sold commercially
Adding ground coffee beans or tea bags
Adding crushed eggshells
Another way to replenish your soil with nitrogen is to use a cover crop each winter. Plant legumes, like clover, peas, beans, alfalfa and even Scotch broom, at the end of the growing season to add nitrogen back into your soil. Compost and manure are rich in nitrogen, so adding these to your soil will enrich it with nitrogen.
Plants need nitrogen to convert sunlight into energy through photosynthesis, and they do this using chlorophyll. Chlorophyll makes the leaves and stems appear green. Plants that don't get enough nitrogen produce yellowing leaves, and that's because nitrogen helps them produce amino acids that plants need to grow.
Nitrogen in the atmosphere is actually a gas, but in soil, nitrogen in the form of nitrate and ammonium can be used by plants. When the soil warms in the spring, bacteria in the soil carry nitrogen to plant roots to help plants grow.
Nitrogen can also form when plant and animal matter decompose. These can slowly release nitrogen back into the soil, making nitrogen available to more plants than those that naturally make nitrogen through bacteria in the soil. Then, the process starts all over again.