Things You'll Need
Gold or silver tray

Greenery, such as banana leaves or lettuce

Dips or condiments

Hallowed-out bell pepper

Edible decor items, such as radish roses or flowers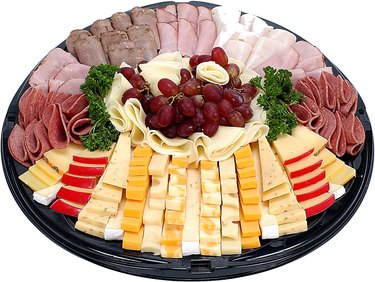 If you're providing catering for a loved one's special event, such as a baby shower or wedding reception, don't forget to decorate the food tray. Enhance the catering tray with decorative edible items to create a more appealing presentation. You don't have to be a professional caterer to design an eye-catching cheese, fruit, sandwich or vegetable platter. Use a few basic techniques to transform the food tray from bland to taste-tempting.
Step 1
Line a decorative gold or silver food tray with greenery to give the display a fresh look. Rinse food-safe greenery, such banana leaves, and dry them thoroughly before placing them on the platter as a base. Use leafy greens, such as escarole or romaine lettuce, to line the platter as another option.
Step 2
Place the food, such as sandwiches, fruits or vegetables, on top of the greenery. Create neat rows of sandwiches, or arrange fruits and vegetables, such as carrot or celery sticks or berries, into individual groupings.
Step 3
Allow a space in the center of the tray for dips or condiments. Fill a hollowed-out green, red, orange or yellow bell pepper with ranch dressing or mayonnaise as a creative alternative to a bowl.
Step 4
Garnish the catering tray with edible decor items. Create radish roses by washing the radishes and cutting their tops off. Make circular-shaped cuts around the radish to resemble a blooming rose. Line the radish roses up around the perimeter of a vegetable, cheese or sandwich tray. Sprinkle edible flowers or herbs, such as chamomile, lavender, clover and apple blossoms, around a dessert or fruit tray as a vibrant touch.