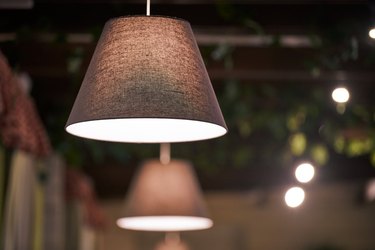 IKEA sells inexpensive yet trendy home furnishings and accessories, but its items aren't always known for being easy to put together. If you're tackling an IKEA light fixture installation, you may have a difficult task on your hands. What exactly is a pendant lamp, though? Models like the IKEA Melodi pendant lamp hang from the ceiling. Pendant lamps hang from a single cord or chain and usually contain one bulb. People often choose to hang them in pairs or sets.
Safety and Important Installation Considerations
Hanging an IKEA plug-in hanging light the right way can be a struggle. If you're replacing a kitchen light fixture or installing a new pendant lamp from IKEA, you can likely get the task accomplished efficiently. However, you should work with an electrician if you're adding new lighting in your home that requires complex wiring work. Anything beyond the assembly of a lamp should be handled by a pro.
For safety's sake, the first thing you must do during the assembly and installation process is to turn off power to the circuit with which you're working. That means that you may need additional light, or you may need to complete this task during daylight hours.
Next, use the instructions that IKEA provided to assemble your pendant lamp. There are plenty of instructional videos for every IKEA model if you run into trouble. A web search for your particular piece will help. Don't tighten the base of the lamp just yet, though.
IKEA Light Fixture Installation
Your new light fixture should have come with a crossbar. Using a screwdriver or drill, you'll need to use two screws to attach this to the light box in your ceiling. If you're standing on a ladder, use caution. There should be a metal hook inside the base of your pendant lamp. Use it to hang the light on the fixture crossbar.
Next, you'll be connecting the actual electrical wires. This step is the most dangerous and challenging piece of the installation, and if your light doesn't illuminate when you're finished, it's likely that you made a mistake here. Also, if you're not entirely comfortable working with electricity, you should work with a certified electrician. Match the colors of the wires in the lamp base to those in your ceiling's light box and then wrap them together and use wire caps to secure them. You may have wire caps from your old lighting fixture but use new ones to be safe.
Now, screw in the base of the pendant lamp that you left loose when you first assembled it. It should lie flat or flush against the ceiling. Before you finalize the installation, make sure to turn the power to the circuit back on and test the light. If it doesn't work correctly, you may need to reassemble or rewire the lamp. Call an electrician to help you finalize the project if all else fails. After making sure the lamp works correctly, you can complete the installation by adding the lampshade or other accessories.
Get Help for Adding Wiring
Replacing kitchen light fixtures is one thing, as is connecting a new fixture to wires from the box from an old fixture. If, however, you're adding a new lighting fixture to your home (in other words, there isn't an existing light that you want to replace or there isn't existing wiring in place), the task is quite a bit trickier. You would need to get inside your ceiling to add the necessary wiring. Only attempt this task on your own if you're a certified electrician.
If you're a certified electrician but you haven't added a light box to your ceiling before, there are many creators on YouTube who provide tutorials on how to do so. Sometimes, you can do this by heading into your attic or crawl space. Contact another pro or a friend in the industry for help if you feel you're in over your head.