A breezeway can connect a detached garage or other outdoor location to the main house or can be an indoor area that functions as a hallway. Converting your breezeway into a room allows you to add function to the space without having to pay for an expensive remodel or addition to your home. After determining the new function of your space and making any necessary architectural changes, you can convert the space into a room that provides useful square footage.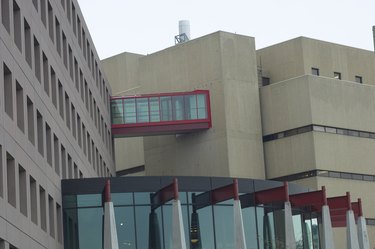 Things You'll Need
Furniture

Nails

1 5/8-Inch Drywall Screws

Lighting

2-Inch By 4-Inch Wood

Paintbrush

Accessories

Plywood

Insulation

Storage Devices

Drywall

Drywall Lift

Paint

Hammer
Step 1
Figure out the function of the new room. Consider the needs of your home and the basic architectural characteristics of the space. If your breezeway is long and narrow, a mudroom or sunroom may be the best use of the space. If the room is wider, a bedroom, sitting room or children's playroom may be possible.
Step 2
Close in the breezeway area with walls, if applicable, and if it is within your budget. If you live in an area with good weather, you may be able to use the breezeway as a room, even if it is not covered; however, you risk having your items inside the room damaged if exposed to the elements. Not closing in the area may also prevent you from using the room for a specific function, such as for a bedroom. Make the framing and headers out of 2-inch by 4-inch wood and erect in place. Nail the framing in place with 2-inch long nails. Add insulation and nail plywood to the exterior of the framing.
Step 3
Nail 2-inch by 4-inch boards across the framing to form your ceiling joists. Hang drywall to the framing and ceiling to form your walls and ceiling. Use a drywall lift to lift the drywall to the ceiling height. Secure in place with 1 5/8-inch drywall screws.
Step 4
Hire an electrician to wire the room, if necessary. You may need only a few outlets, depending on the room's function.
Step 5
Add lighting. Breezeways often lack adequate lighting; thus, you will need to add extra lights. Avoid dangling light fixtures that may make the small space feel like it is closing in. Use pocket lights to maintain usable square footage or track lights to light a long, narrow area.
Step 6
Paint the room. Choose a color that coordinates with the color of any rooms visible from your new room; however, use a different color so you can define the new space.
Step 7
Add furnishings proportionate to the space. For example, if your room is long and narrow, use skinny console tables, a storage bench and a narrow couch. If your room is wider, use a larger sectional. Place your furnishings against the walls to allow for foot traffic through the room. A reading nook or day bed are functional pieces of furniture that will not consume all the room's square footage.
Step 8
Add accessories. Long mirrors make the room feel larger. Bring outdoor elements inside if the breezeway has windows that show off the outdoors. Add plants, hang two or three hanging baskets near a window or add wood furnishings. Hallway runners provide colorful accessories that help soften the space. Add pops of color in the form of curtains, pillows, vases, pictures and tabletop accessories.