No matter which sport you're celebrating, making centerpieces is a decorative way of dressing things up on the banquet tables. It's inexpensive and fun to add them to the decor, and most centerpieces can be made to fit any budget. Making them to complement the other decorations allows you to express your creative, artistic side and is a great way to contribute to team morale. The possibilities are endless, and themed centerpieces liven up the party and promote good cheer.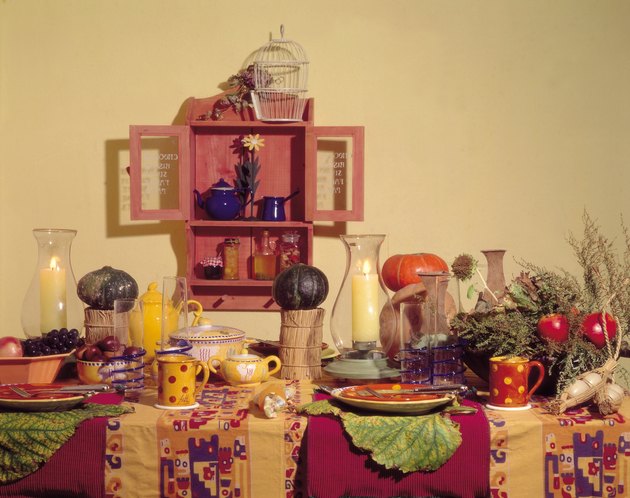 Things You'll Need
Wicker baskets with flat bottoms, 9 to 18 inches in diameter

Hot glue gun

Glue sticks

Newspaper

Marker or paint pen

Scissors or wire cutter

Sports props

Individual plastic trophies

Sports balls

Candles in team colors

Candies and goodies

Silk flowers and floral greens

Team photo

Individual player's photos
Step 1
Choose the theme for the centerpieces. Most themes will center on the sport being celebrated and the team doing the celebrating.
Step 2
Decide what colors you'll use. It's a good idea to use team colors, or combine team colors with seasonal colors or league colors.
Step 3
Take a count of the number of centerpieces you'll need for each table and any special centerpieces for the dais, or main table, where honored players or special people may sit.
Step 4
Choose baskets whose size will complement that of the tables. Large round tables that seat eight or long banquet tables look best with larger baskets.
Step 5
Include components for the centerpieces that best represent the team, the players' personalities or specific traits, the season, or other pertinent team activities.
Step 6
Cover the table with newspaper, line up the baskets and organize your decorations for the centerpieces in groupings, where each group has everything you need for that centerpiece. All components should be in one area, to make it easier to work.
Step 7
Plug in the glue gun, add a glue stick and allow it to heat up until the glue is slightly runny. Add items to the centerpiece, starting with the largest -- for example, a football. Place a dollop of hot glue on the inside bottom of the basket, and set the football or other item onto the hot glue. Hot glue dries quickly, so work on one centerpiece at a time.
Step 8
Add several more dollops of hot glue, and stand the candles upright in the center of the basket next to the football or other sport ball. Place other items like trophies into the basket to position them, and when you are happy with their position, glue them in with hot glue.
Step 9
Cut the silk flowers into stems and place them where you like in the baskets. Add a small drop of glue inconspicuously to hold them in place.
Step 10
Tuck team photos or individual photos of team members in between other items in the centerpiece, so they stand up and are visible. Add a small drop of glue to an inconspicuous corner or edge, to ensure they remain in place.
Step 11
Fill the empty spaces in the centerpiece with candies or small sports-related party favors. Leave these items loose, so the players can grab what they like.
Step 12
Lay the floral greens flat on the tables under the baskets, and place the baskets on top. If you prefer, you can glue the baskets to the greens for stability.
Step 13
Place one centerpiece in the middle of each round table, or space them down the center of a long banquet table.
Tip
Take team and individual photos ahead of time, and print them out.
Add individual favors at each place to complement the centerpieces and for team members to take home. Use small plastic trophies that are cup-shaped, and fill them with candies or other edible goodies. Write the team member's name on the individual trophy with a marker or paint pen, so each player feels like a winner.
Use hot glue sparingly. After the party is over, it will be easy to separate the pieces of the centerpiece.
Warning
Buying supplies for your centerpieces can end up being costly, if you don't plan ahead. Make a budget and stick to it. Choose items that are reasonably priced and that fit comfortably into your overall budget.
Hot glue can burn. Use caution when using the glue gun, and keep it away from young children.